Share this page
0
0
3
0
536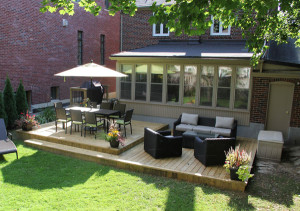 As one of the largest suppliers of wood decking and low-maintenance composite wood decking and rail parts in Greater Toronto Area, the Deck Store offers a wide variety of decking accessories, railings, low-maintenance decking hardware items and more. The Deck Store is the only source you'll need for all your decking solutions. Our friendly and knowledgeable customer service representatives will give you the best service around.
Get back to the basics with a classic and authentic wood decking design and enjoy the traditional beauty of entertaining guests on a natural wood deck!
The main benefit of selecting wood decking is the versatility in design. Wood is easier to cut and mould into whatever shape you envisioned for your patio. Also, wood has been used as a material in the decking industry for many years. Therefore, there are many experts available and familiar with how to use the product to achieve the design of your dreams.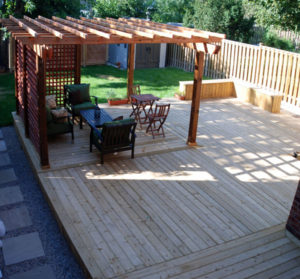 Home owners can save money on regular maintenance by making it a DIY (do-it-yourself) project – since it is not that tough. It only requires the deck to be cleaned and re-sealed every few years in order to increase the product lifetime – especially if you use a high quality wood!
Add the element of a natural wood deck to your home today!
Let us help! Contact The Deck Store for your complimentary consultation.