Modern Deck Building: Design Considerations, Deck Extensions, and Deck Accessories. Part 1: Success Tips
Deck building really has several goals including increasing your livable space, improving the value of your property, and expressing your individuality in taste and use cases. This last point means that a basic deck is like a painter's canvas: it's where the art happens, but it's not the art itself. Extending a basic deck can make all the difference.
Tips for a Successful Deck Building Project
When undertaking a deck building project it's important to learn how to assess work quality. Many elements go into the quality of a deck. Design is important. Using quality fasteners (screws and bolts versus nails) and materials is important. Weather proof construction is important. Building for durability is important. Your deck project will need isolation from the ground to prevent rot and termites, and solid footings to prevent unneeded repairs. That's a lot to juggle!
Also, when building a deck it's critical to price to a budget. This involves getting and comparing quotations. To do so, it's important to specify the work accurately. Factors such as location, materials, size of job, complexity of job, and time lines, and other things all affect price. And, you will need to keep expenditure in proportion to the home where the deck project is being built: bigger is not always better.
Ultimately, the best approach is almost always to hire a pro: craftsmanship matters. A deck contractor can be the one who looks into building permits, regulations, and bylaws. An excellent starting point in hiring a deck builder is this Deck Store blog post: The Decision Funnel: How to Find a Professional Deck Builder.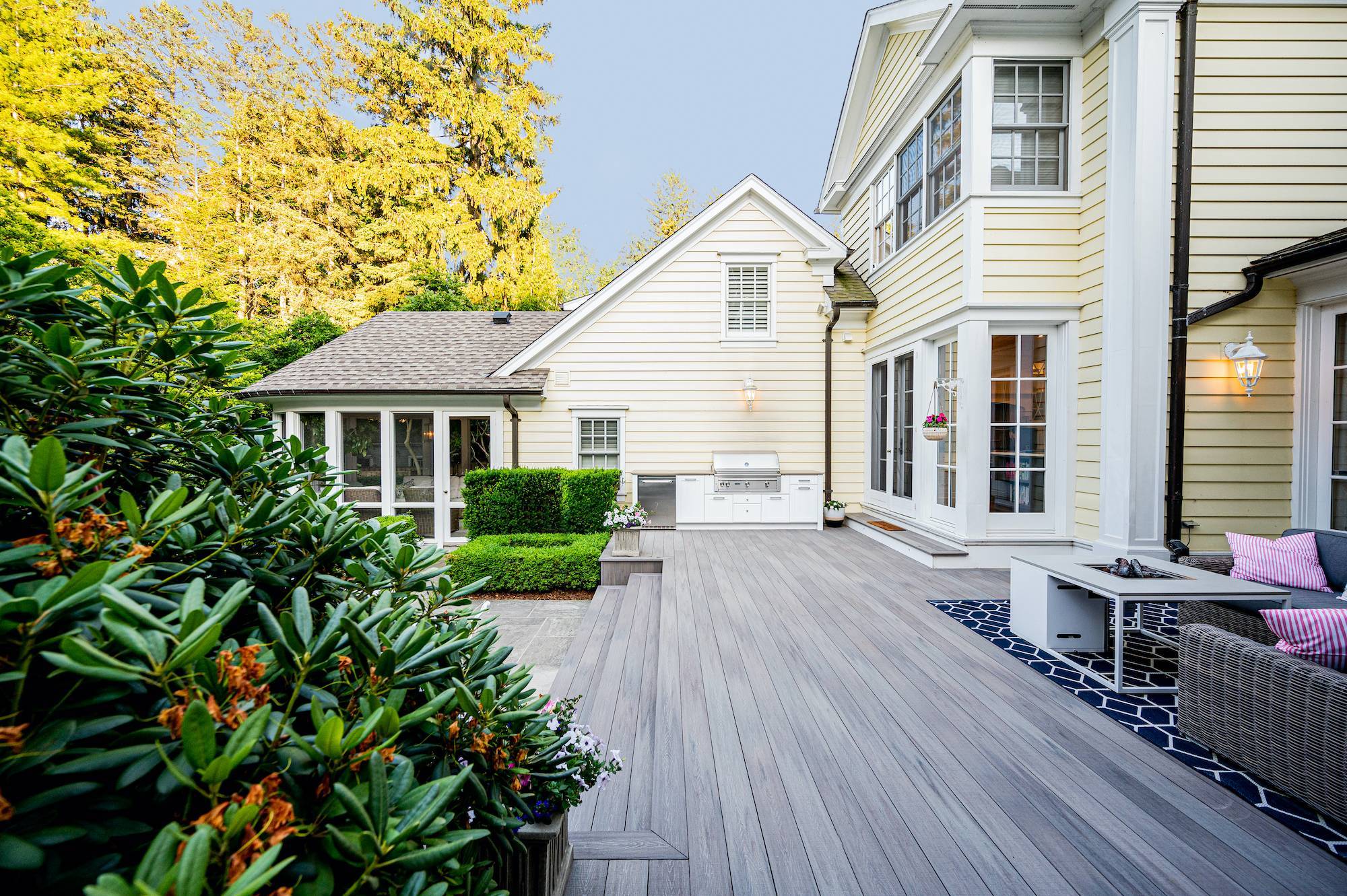 General Design Considerations
When thinking about deck building, the first thing is to set priorities: the things that are "must have", those that are "nice to have", and those that matter less or not at all. You will need to consider tradeoffs, especially relating to size and amenities. To get the deck extensions you want, you might need to go with a smaller deck. But giving up size is not the end of the world. As you consider the size of yard and the space available, you will find this Deck Store blog post can give ideas on how to make smaller spaces seem bigger.
Use cases are also critical in deck design. Remember that function defines form. What you want your deck project to DO will affect its design. That might mean various decking levels, deck zones (kitchen, lounge. dining), size, access points of deck space, and so on.
WHO is going to use the deck is as important as HOW the deck will be used: consider users. Will the deck need play areas for kids? Accommodation for pets? Capacity for lots of guests? Or accessibility design for the elderly or those in wheelchairs?
Flexibility might be another consideration. Can the deck be reconfigured? Or is that important?
Seasons and frequency of use are definitely critical considerations. It's important to be honest with yourself: how often do you realistically plan on using your new deck? The answer to this question will feed into what you budget and the extensions you choose. The seasons will affect how often you will use your deck and also will influence decisions on enclosures, roofs, bug screens, and wind breaks. Temperature, bugs, wind, precipitation, and available light are all seasonal.
Visit our website to find a location closest to you, or to contact a deck designer today!
Follow us on Facebook and Instagram for more deck design ideas.