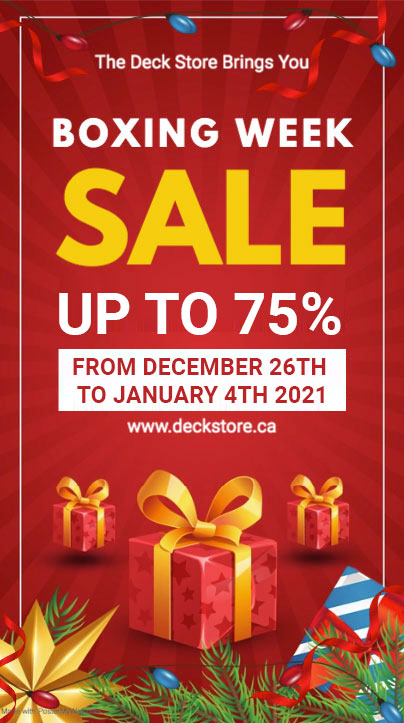 Boxing week sale
30 to 70 % OFF
From December 26th to January 4th 2021
While quantities last | Call in your order
Building Services and Fees
Transforming Your Backyard All Year Round
Transforming Your Backyard from mundane to marvelous doesn't happen overnight. It takes a well-thought-out plan, quality materials and an expert vision to execute. But perhaps the most important aspect of any backyard renovation is not what work is being done, but who is actually doing it.
Experienced Professional Builders and Craftmen
At The Deck Store, we are just as picky about who does your work as you are. That's why we go through a painstaking process of selecting only the best deck-building craftsmen to join our team. These guys are experienced professionals, skilled in a variety of build techniques and know-how.
Quality Control During Construction Process
Every stage of the building process is treated with the utmost care and attention to detail, resulting in stunning projects that are constructed well above Ontario building code standards. Quality control is a must, and we employ a technique of constantly supervised job sites, overseen by a team of Construction Managers who are second to none.
Pick a package that suits your needs
BRONZE
Traditional wood or entry-level composite deck.


SILVER
Midsize or larger spaces with alternative materials


SAPPHIRE
Midsize to larger spaces with lower
maintenance decking and railing.
GOLD
Our signature low maintenance deck
with ASA/PVC decking material
PLATINUM
Large multi zone areas with all the bells and whistles


DIAMOND
The Ultimate back yard dream


Ready For Your Deck Building Project?