Alana Sky: The Beauty of Privacy
Have you ever witnessed something that literally gave you pause? Maybe you were on a hike and came across an
unexpected waterfall
, were passing through a small Manitoba town and saw
a collection of strange, giant objects
, were driving through the English countryside and encountered
Stonehenge
(appearing just as majestic as it is out of place), or traveled to the foothills of the Himalayas in Nepal to see the
scalp and hand remains of the legendary Yeti
firsthand. Whatever the occasion, your first reaction (after stopping to catch your breath from your travels), was always the same: you were speechless, your mouth naturally hanging open in both shock and awe (no,
not that kind
)…who knows, you may have even drooled a bit. And while entering into a backyard renovation is certainly not in the same league as
seeing a UFO
, the transformation of your space can sometimes be just as amazing.
Sights That Will Take Your Breath Away
Everyone is after that perfect backyard, and while it may take on various shapes and designs depending on your perspective, we all ultimately want the same thing: a space where we can relax, entertain and unwind. And one of the best ways to accomplish this is to ensure that your personal oasis stays as quiet and uninterrupted as possible. For those blessed with a large expanse of land or a secluded property, this is not a real area for concern; however for those "Average Joes" out there, space (and money) is at a premium. You need something to protect your privacy that is affordable, versatile, and of course, esthetically pleasing. The solution comes from the mind of acclaimed landscape architect Ron McCarthy, and is now proudly carried EXCLUSIVELY at The Deck Store. Ladies and gentleman, it is my honor to present to you, the beautiful world of Alana Sky.
The Perfect Privacy Screening
This revolutionary product is the only one of its kind in North America, and answers every concern from potential buyers with a resounding "YES!" Named after Alana McCarthy (the wife of the founder), the Alana Sky Collection is the most customizable and contemporary solution to ensuring privacy in your yard since…well, ever! Available in 18" and 3' paneled sections, Alana Sky is the result of high-end fabric (which comes with a 5-year warranty, incidentally), meeting solid aluminum framing. Ron thought of everything before unveiling his newest creation, and believe us…he thinks of a LOT of stuff. Designed and built using 99% recycled materials, Alana Sky privacy screens combine beauty and toughness perfectly…and can even stand up to 100mph winds (which is pretty impressive for a product tipping the scales at less than 10 pounds). What's more, these little beauties can be manufactured to match any color of outdoor decking or furniture, and are versatile enough to afford maximum customization. What does that mean exactly? Well, it means you can choose how many panels you want, what color of fabric and framing you want, and can decide how big (or small) your screening is. Almost nothing is pre-determined or manufactured to keep in stock, giving you the ability to literally design your own privacy screening to your exact specifications.
How It Benefits Your Yard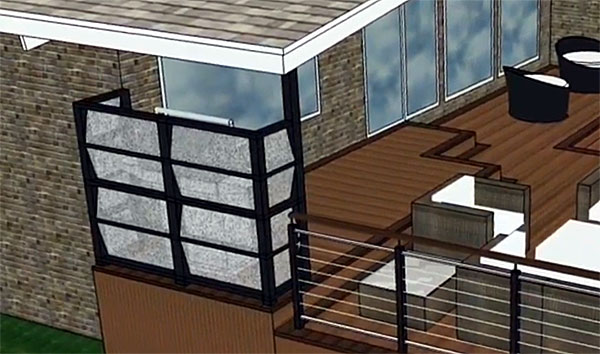 [pl_video type="youtube" id="0x7oLhIGFP4?rel=0;3&autohide=1&showinfo=0″]
And if all that weren't enough to pique your interest, then the residential applications of Alana Sky should make your ears perk right up. This product can literally be installed…wait for it…anywhere. Whether you are looking to put distance between yourself and your neighbors, need a break in the space between your outdoor kitchen and the rest of your deck, or simply want to add a bit of pizazz to your garden or tree line, Alana Sky is your answer. Mounted on lightweight plates using simple tools, each panel section can easily be attached to any number of surfaces, including (but not limited to): composite decking, pressure treated lumber, stone and concrete. And installation couldn't be easier. Whether you are a seasoned outdoor professional or a weekend warrior, Alana Sky panels can often be installed in little to no time at all, often with only a few common handheld tools.
Want to know more about Alana Sky and can't wait to proudly display it in your backyard space? Contact The Deck Store today to get started! This product is not available anywhere else in the North American market, and neither are our staff. We employ some of the best and the brightest minds in outdoor design and décor, and they can't wait to put their ideas to work for you. The Deck Store and Alana Sky: helping to create your dream backyard today.