AZEK® Decking for a Deck Project on a Solid Footing
What's underfoot matters, and it's always best when you're standing on something solid and durable. Having a "solid footing" is another way of saying the details are being taken care of and unexpected surprises will not happen. This idea is true both metaphorically, and in the case of deck surfaces, literally. AZEK decking is an excellent way to have your decking "on a solid footing": it's durable, easy to maintain, and attractive.
AZEK PVC decking is an excellent alternative to wood decking, having all the ease of workability of wood combined with exceptional durability. AZEK offers a range of decking series: the Vintage Collection™, the Arbor Collection™, the Harvest Collection™, the Terra Collection™, and the XLM line (with Natural Collection™ and Tropical Collection™).
These collections are differentiated by their colour schemes and wood themes. The Arbor, Harvest, and Terra Collections are available in square-shouldered profile, while the Vintage, Natural, and Tropical collections come in both square-shouldered and grooved profiles. The grooved profile decking can be installed with no visible fasteners when using AZEK's CONCEALoc® hidden fasteners.

To make the process as easy as possible, AZEK has an online Deck Designer to get you started.
Once your design is complete, and materials are chosen and purchased, installation is next. As AZEK decking is vinyl, installation is straightforward, and uses the conventional tools: powered screwdriver, chalk line, tape measure, jig saw, carpenter's square, spacing tools, miter saw, and safety glasses. AZEK provides complete and easy-to-follow installation instructions and videos.
All of the AZEK decking collections resist staining, scratching, splitting, and mold and mildew, providing durable and long lasting decking.
Maintenance is simple. Rust stains can be removed using a household cleaner, and general cleaning can be done with an all-surface deck cleaner and a stiff natural fiber brush. It is always a good idea to test cleaners on a scrap piece of decking material or in an inconspicuous part of the deck before use, as some chemicals will interact with the decking materials, causing stains. Insect repellents, sunblock, PVC glue, and similar products are also potentially damaging to PVC decking.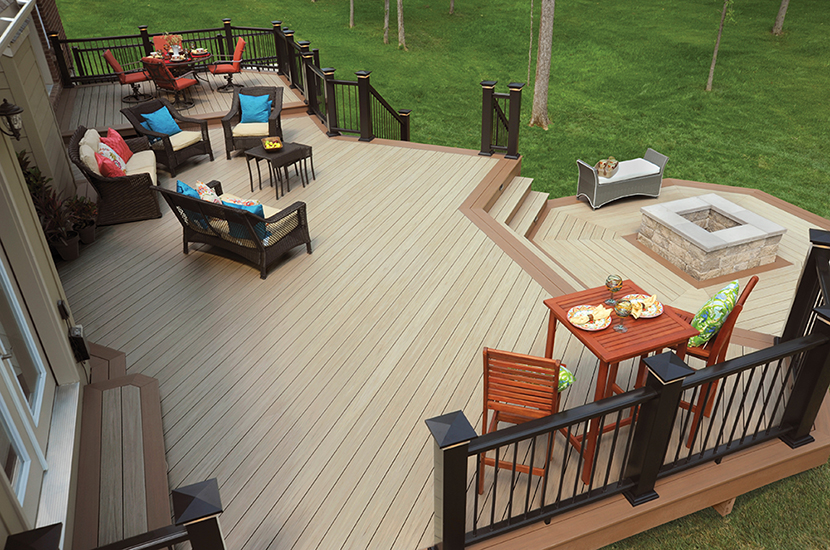 Like any surface, AZEK decking can, given particular conditions of moisture and temperature, get a surface coating of mold or mildew that can be removed with an all-surface deck cleaner or a 1:4 mixture of bleach and water.
AZEK decking is complemented by a full line of AZEK trim and railing products for giving a completely finished look to your deck project.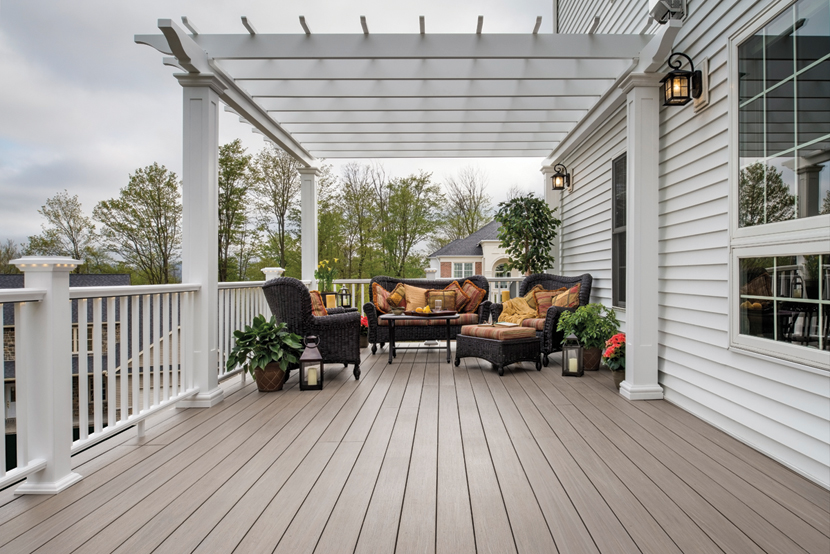 All AZEK decking complies to ICC code ESC-1667 and to CCRR-0101, and comes with a limited lifetime warranty for residential uses and a twenty-year warranty for commercial uses. The AZEK decking line is available at The Deck Store for your project this summer!