Bring Your Deck Back to Life!
The advancements in decking technology over the years have been substantial, and if you've decided to have any of them adjourning your home, you are no doubt pleased with your investment. If however you are not among the fortunate, there is still hope for you!
From the DeckMAX line of products, comes PVC Deck Revitilizer; the perfect solution for restoring the finish of your deck, as well as removing pesky scratches and stains. This revolutionary formula is not just a simple cleaner or enhancer, but rather is designed to chemically react with your existing PVC or composite decking. One application is akin to pressing "reset" on your deck, and returns most material to their original colour and stain resistance. The process is simple and easy, with no pre-sanding or stripping required, and the formula is both safe to use and environmentally friendly.
The photo below from our own testing speaks for itself!
Whether your deck is in need of a makeover or just an aesthetic touch up, stop by The Deck Store today for your supply of DeckMAX, and be proud of your deck's finish at those summer gatherings year after year.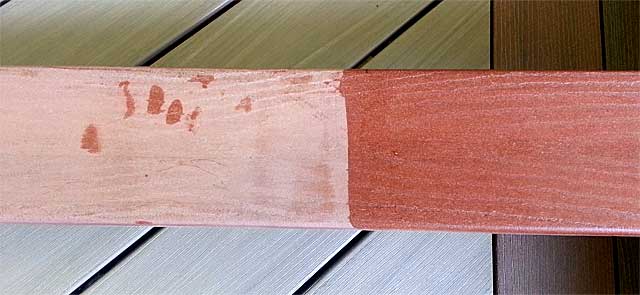 How to Clean Your Composite Deck – DeckMAX
[contentblock id=visit-local-decking-showroom]