The Deck Store is there?? Jackpot!
We're all familiar with things like hidden costs and fine print (often too familiar), aren't we? You know, like when you "win" something on a game show or a lottery, only to find out that your definition of winning and the contest holder's vary ever so slightly. You're thinking you just got a new car or vacation, and they're thinking: we might have hooked another sucker! Salesmen utilize this technique as well from time to time, telling you all the things you need to know about their product or service, while keeping from you any potential negatives. But the good salesmen, the ones offering you quality, high-end stuff, have no need for this charade. Transparency is key for them, honesty and integrity the tools of their trade. They lay it all out for the world to see, keeping expectations realistic while forming authentic relationships. And in the case of these white knights from the business community, fine print can actually be a good thing! How you might ask? Well take The Deck Store, for example. Everybody knows they are the place to go for all your GTA decking and outdoor needs…right? They have built a relationship of trust in cities like Mississauga, Toronto, Oakville, and Oshawa (most of which have showrooms by the way!), working with a variety of clients and budgets to build some truly unique spaces. But did you know that you can reap these same benefits outside of these areas…?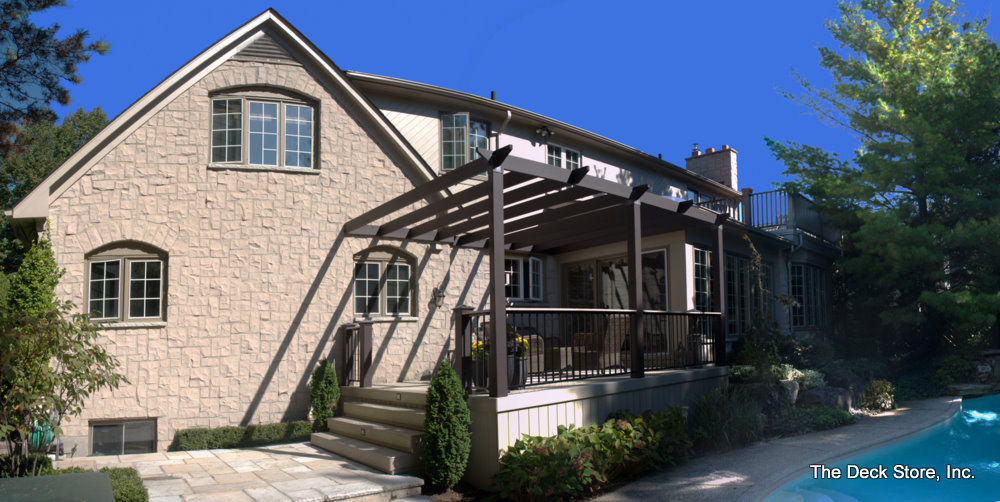 One of the newest additions to The Deck Store fleet, our Milton showroom services those living in the city itself, or in the outskirts such as Georgetown, Acton or Caledon. Our experienced team of designers and installers know the area in a very detailed fashion, from the soil distinctions and structural challenges to the latest local trends. In fact, most of the team lives in Milton itself! Living in or near the escarpment is a visual paradise, but can also come with its share of frustrations. Our design experts can work with you to embrace your yard's natural beauty, while simultaneously creating maximum amounts of living space. If you are the proud owner of a property in one of the numerous new developments in Milton (for example), space may be at a premium. You may get stuck with odd shaped yards, confined areas, and close neighbors. Not to worry! The Deck Store offers all kinds of things to turn your new house into a home. Low-maintenance decking can be installed to match the luxury of your home; artificial grasses can be added to limit yard work and pet cleanup; privacy screens can be included to give you a little more intimacy; adjustable patio covers can provide you that perfect blend of style and substance. The possibilities are endless!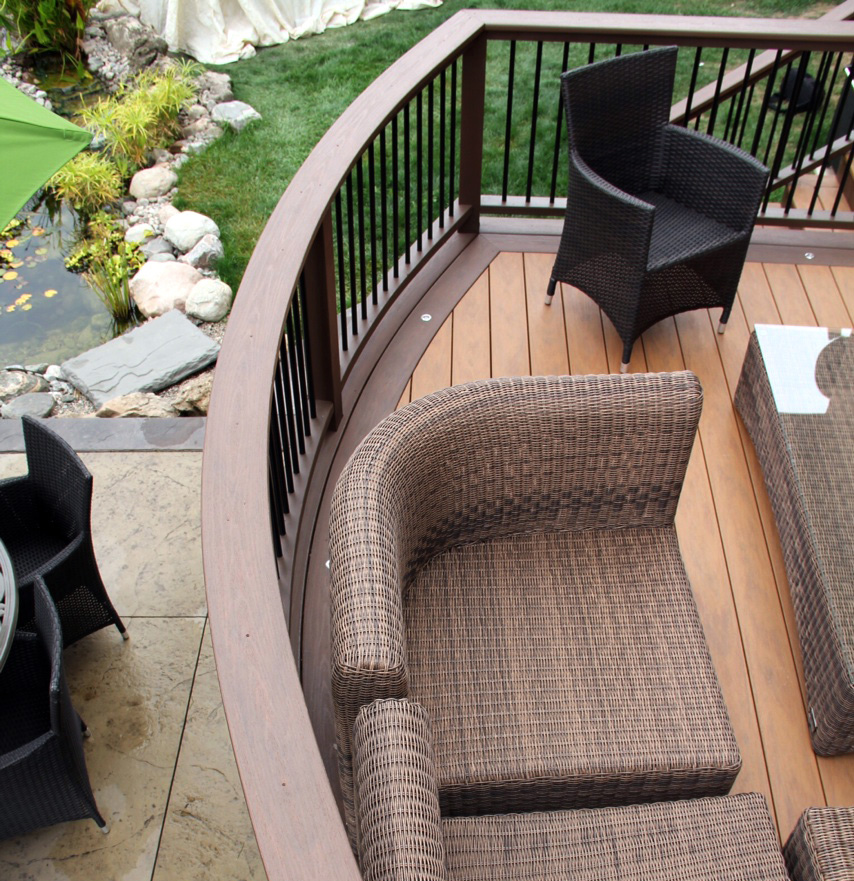 This gem of a town has come a long way since being the most populated town in Upper Canada in the late 1820s. If you are lucky enough to call Ancaster your home, than you have no doubt become accustomed to the rustic beauty of nature. With a deep historical background and walking trails lining the countryside, Ancaster truly has something for everyone…so why not add to the visual landscape with a custom oasis all your own? We service everything from Burlington to Hamilton and everything in between, making The Deck Store your ideal choice to complete your backyard makeover. A beautiful new cedar deck might fit right in, for example. Maybe you could even add in a new outdoor kitchen area, complete with a state-of-the-art grilling unit? Finally, top it all off with some stunning lighting features to create an intimate ambiance, then relax and take it all in on comfortable, custom outdoor furniture. Our design team is full of innovative and original space solutions, specializing in creating harmony between your yard and your decking. There is so much natural beauty beyond the walls of your home; work with it instead of invading it!
Everything You Need In One Place!
The faster growing municipality in Canada, the region of Vaughan presents a series of design challenges and opportunities for your backyard space. "The City Above Toronto" has a rich urban flare, featuring everything from high-end malls to theme parks. This makes it the epicenter of emerging design trends and alternative materials, both of which fit The Deck Store to a "T". Let's face it, yard space is a cherished commodity in any urban setting, and going the extra mile to customize it can really make you stand out (not to mention, can substantially increase your home's resale value!). You need something unique, something low-maintenance, and something that is as visually appealing as it is affordable. Maybe you'd like to go with a modern rock theme, using pavers to create your surface space, while framing the outside of your structure with an authentic rock façade? Perhaps you are looking for a modern looking and affordable safety surface, relieving the stress of worrying about children playing in the yard? Or looking to create more usable space under your existing decking system? Once you have the foundation of your project mapped out, get creative with the details! Try one of our new fire features, or download our eBook to get valuable insight and design advice.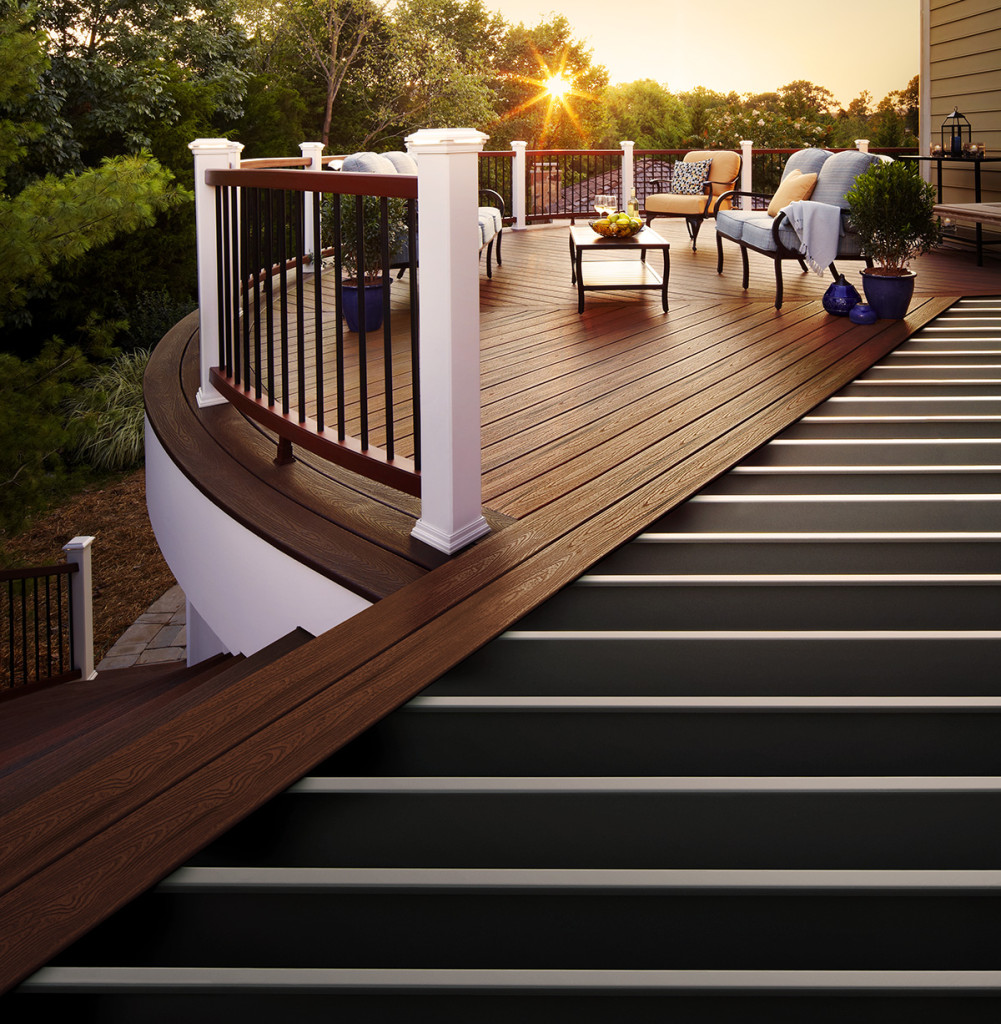 The Mecca for cutting-edge trends, art, style and fashion is the "Big City". You downtown folk have it all: sports stadiums, playoff games, restaurants, theatre, the freakin' Hockey Hall of Fame…but what you don't have is much usable yard space. Part of what makes Toronto the entertainment capital of Ontario (besides Rob Ford and his shenanigans), is the fact that there just simply isn't room to do much at home. Lucky for you, The Deck Store is here to help. With one of our interactive showrooms close by, we offer a broad array of products and design options to suite the city dweller. We have alternative surface options for condo spaces, rooftop terrace solutions, and surface decking to suite anyone's fancy (or budget). And if you're one of the lucky few in the city who actually have yard space to work with, perhaps we could interest you in our EXCLUSIVE Ultimate Deck package! It is built with pride and made to last…just like the city you call home. And while you're at it, make sure to get a 3D rendering of your new project, so you can walk through your space before it even exists!By now, either one of two things is happening: either you have so many options and ideas that your head is spinning (in which case we suggest you sit down), or you are like a kid on Christmas Eve and can't wait to get started. If it's the latter, contact us today and get one step closer to your new dream yard!