Ever dreamed of owning a dolphin? We have a pool for you
Dolphins may be the number one fantasy pet of all time. At one point or another in our lives, we've all wanted to own one…whether that meant trying to rationalize housing it in the bathtub or family pool or figuring out a way to call one to your dock or shoreline at a moment's notice. And who could blame us? Dolphins do so many cool things! They've been in movies, saved shipwrecked sailors, fought off sharks and even do charity work with special needs children. These guys are like the dogs of the ocean (no offense dogfish), and there seems to be almost no downfall to owning one. We would even be willing to tolerate the smell of all those dead fish in the little buckets we'd have to feed them out of…am I right? Unfortunately, most of us will never know the joy of having our own dolphin…unless we want to install a brand new pool to our outdoor living space.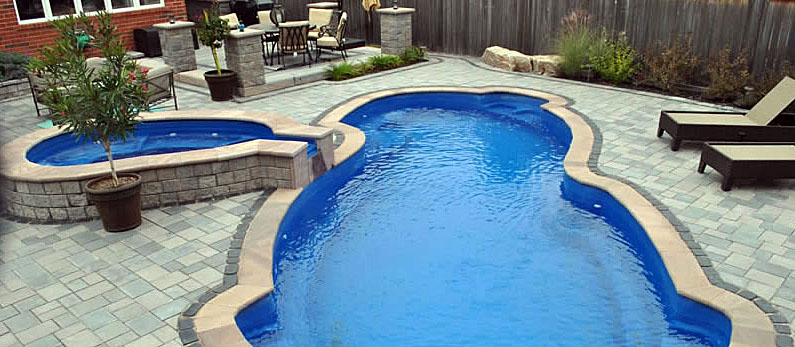 Of course we're not talking an actual, living dolphin here. But we are talking about the next best thing (and easiest way to tell someone you have a dolphin in your backyard): Dolphin brand pools. Manufactured at a local facility in Trenton, ON, Dolphin pools are the made using the highest quality fiberglass on the market according to ANSI and NSPI standards. The process is extremely detail-oriented, but is essentially done in three main stages. Starting with a gel coat of only the finest quality for the foundation, Dolphin then builds a "skin" layer on top, made up of a mixture of vinyl, resin and fiberglass particles. Once this base has blended together, the fiberglass body is then crafted to complete the form. Two layers of 24oz. woven roving is then hand-laid, giving the entire structure unparalleled strength and stability. No fillers or add-ins are used during any stage of construction, which ensures proper chemical reactions are occurring within the main material components.
Fiberglass Pools Are Head and Shoulders Above the Competition
Cost effective and environmentally friendly, Dolphin provides numerous options for shapes and colours, giving you an advantage over traditional vinyl or cement offerings. Dolphin White and Pacific Blue are their two best-selling colour selections, but recently added Sahara and Caribbean Blue are gaining traction as viable alternatives as well. You can find sample projects of everything in their online gallery, perfect for inspiration and design ideas.

Once you've decided on the pool that is right for you, installation is often short and pain free. Most projects can be installed and ready for use in 3-4 days, which is light years ahead of the time it would take you to get a concrete or vinyl-liner pool installed (each generally take anywhere from 2-8 weeks for completion). And that isn't the only advantage to choosing Dolphin…in fact, it is far from it. The durability you will find in their fiberglass is second to none, allowing the form to flex naturally without cracking. This makes the Dolphin system ideal for areas of extreme temperature, providing many home owners well-deserved peace of mind. The chemical makeup also allows for less algae accumulation, requiring fewer chemicals to maintain healthy water balance. This not only makes the Dolphin system more environmentally friendly, but it also provides family-friendly usage as well. But perhaps the biggest asset of using Dolphin is the low-maintenance quality of their fiberglass design. You will no longer have to worry about scratching or tearing expensive pool liners (as with vinyl systems), or dread cracking in the walls or floor (as with concrete). No resurfacing or repairs are needed once installed, which allows you to enjoy your pool experience year after year hassle-free.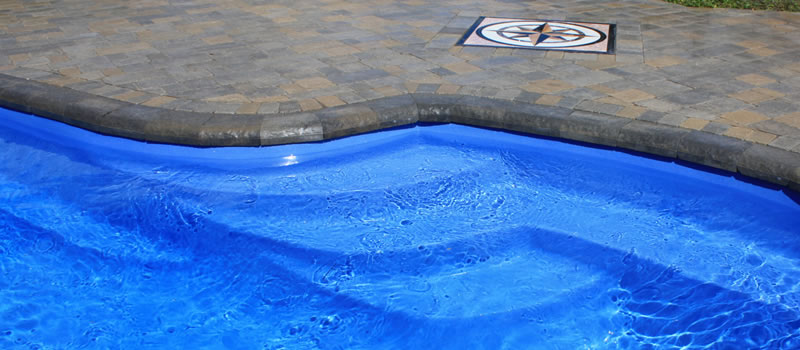 So to make a long story even longer, if you're thinking of adding a pool to your backyard oasis, Dolphin pools is the ideal way to go. Combining affordability, convenience, low-maintenance and durability, Dolphin gets the stamp of approval from The Deck Store and this author. But don't just take our word for it, check out how Dolphin has been reviewed on Home Stars.
Once you have reached the same conclusion as we have, you'll be rushing to contact The Deck Store as soon as possible to get your very own dolphin in your backyard!