What makes a "Great Deck Design?"
Why is it that some designers can craft stunning and functional designs for decks again and again, when some builders just keep recycling the same old thing with the same old flaws year after year. What magical design juice enables them to kill it more often than not, and others have a challenging time again and again?
I know most of the top deck designers in North America, and if you are reading this you may not have heard of Bobby Parks, Greg Dibernardo, Jason Russel, Robert Hodichak, Paul LaFrance or that Winterburn Guy. Their backgrounds vary as much as is possible, from Masters of Arts to some College, but when you look at what they do you can't help but be impressed and understand why all their work belongs in the same Elite Category.
Nearly all of these guys actually built for a living — but the one standout is Hodichak. His edge is Graphic design training, with some mentoring by another great in the industry, Terry Fangrad, (Founder of the Deck Store). He is there as a guiding light to show that you don't have to be a builder to design great decks — though it might help.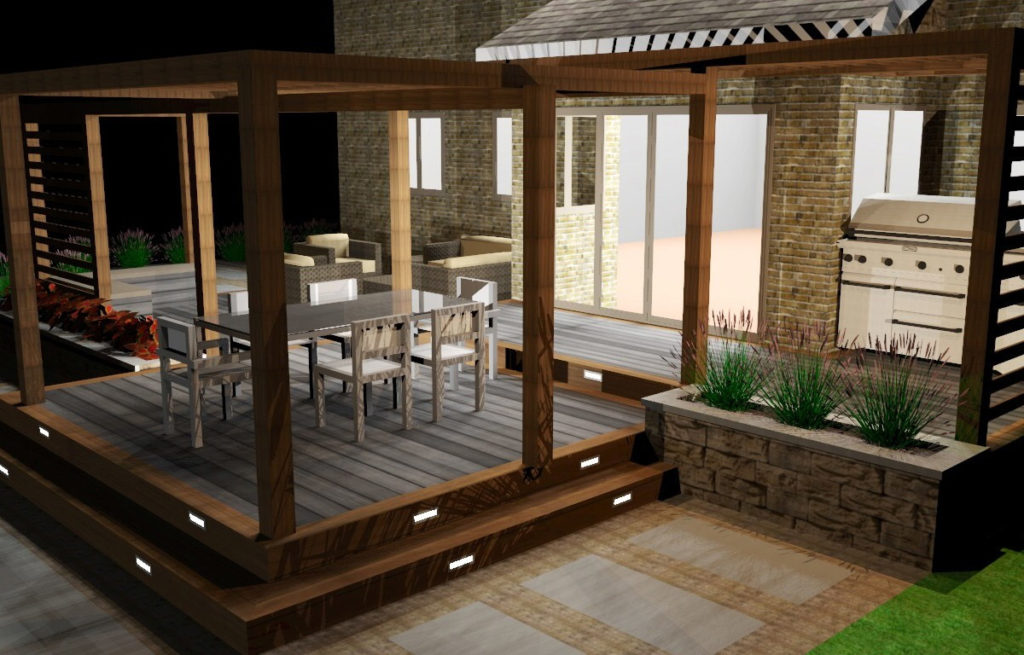 Creating an Inspired Concept
Every home and client are different, and there are numerous combinations and features that will work for every home and client. Having a large bag of options makes it easier to please them every time.
Look at their home, their cars, their furnishings — Talk to them about what they love, look at their art. Ask them why they don't use their current space as much as they could, find the flaws and start coming up with solutions to these issues. I know some may disagree, but you have to know who your client is, what they do and what they love in order to create their ideal space.
Do they host gatherings, or, would they if they had their ideal space? For how many people?
Now that you know what it should look like, how big it should be, and what features it should ideally include, you really need to know your stuff for the next discussion…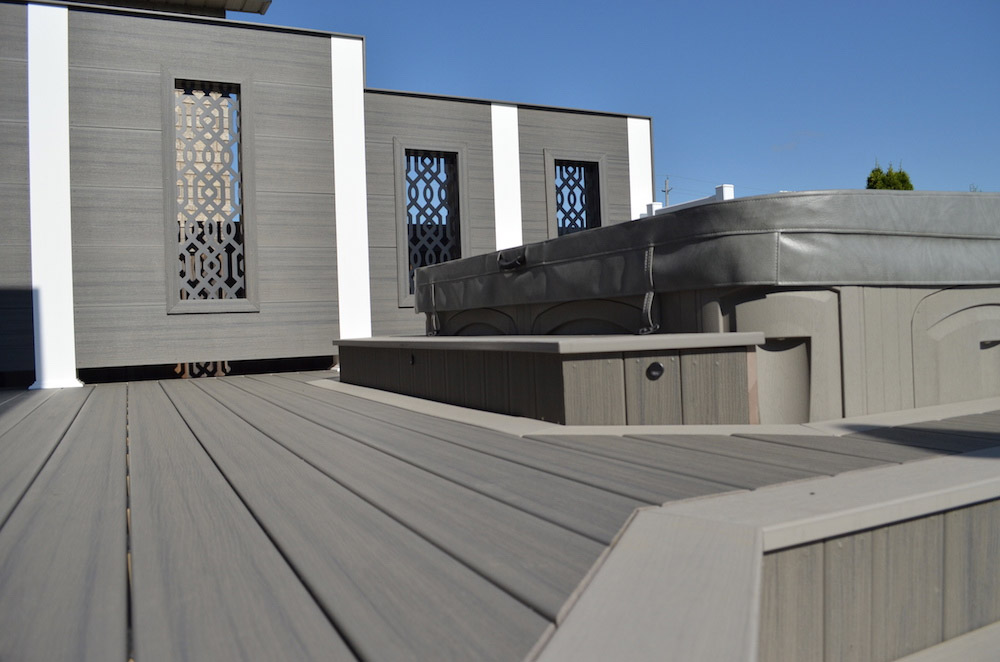 Budget
This discussion nearly always starts the same way. You ask them what they want to invest in their "Staycation Villa", and all of a sudden your appearance morphs into a Brylcreem spackled, thick rim glasses wearing salesman in a really bad fitting suit in a beige used car dealership somewhere on the wrong side of the tracks.
It just doesn't have to. The days of the smarmy used car salesmen coming to your home to sell you something you don't want for way too much money are over. A professional designer is working for the client. This discussion should be a free flow of information — teaching as you may. "I can do something for 30k all the way upto 150k, is there any sense in me designing something for the upper range when you only want to invest 40k?" Then it is our job to show them what the different ranges buy.
Now we have a target budget.
Size and Shape
Curves and angles are great, and can suit the home, but they are not for the tight of budget. Adding these features can add 30-40% to the per square foot price to maintain profit margins. When you find a client with a healthy budget and the desire to invest in a "Showpiece Deck", that will be an exciting project to design and see built — but that just doesn't happen very often.
Keep the shape rectangular for the largest possible footprint when the budget is tight, but it doesn't have to be 2 rectangles dropped in beside themselves — they can be laid on top of each other, or placed on angles. Part interlock patio and part deck is also another way to keep the budget down.
When you are placing a table or furniture allowances must be made for traffic flow. There is nothing worse than a deck layout where you are squeezing past furniture to walk through. By keeping the deck simple, hopefully you have budget in reserve for features that draw the eye, like vertical structures and privacy screens, and maybe some upscale rails. Privacy, shade, lighting and even rain shelter are often on people's wish lists these days, and these can be pricy items. simplicity of the layout is often the only way to include these in the design. Keep in mind that even a simple deck, with nice features will maintain value over a large deck without special items that draw the eye.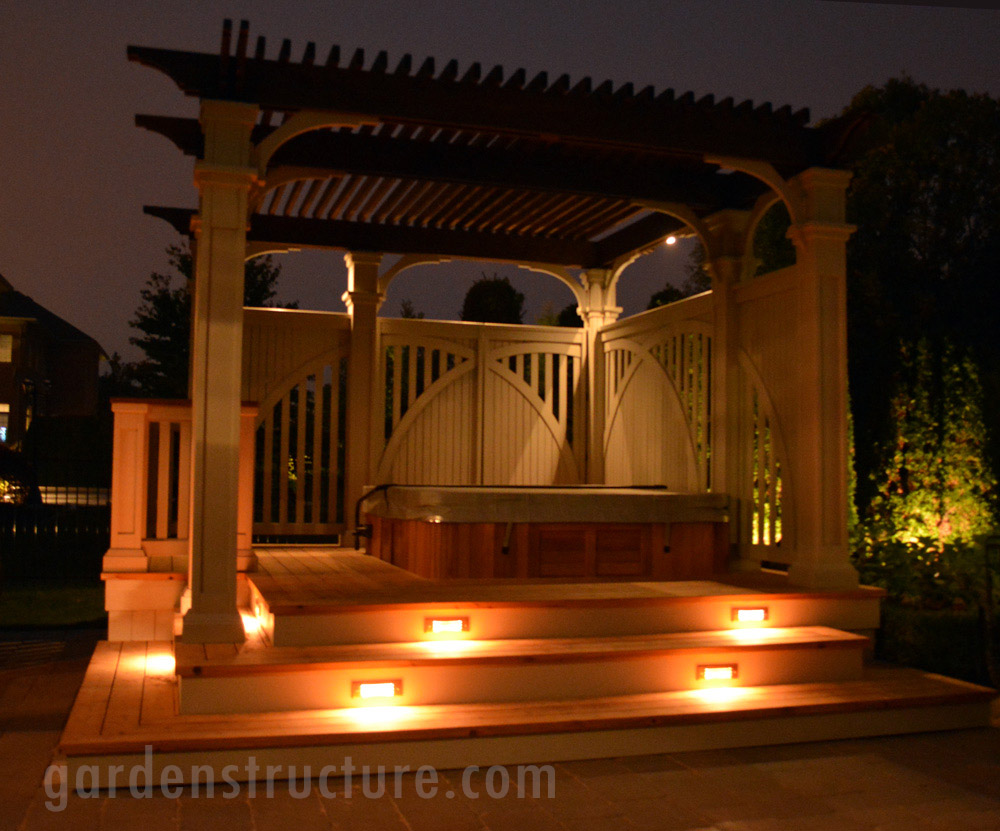 Value
We have all read these articles about the "Average increase of Value when Selling a Home" articles. What to keep in mind is that these articles are based on average designs, by average builders in an average area.
Inspired designs, by talented builders in good areas will often be a net gain over investment.
This is the value of good design.
Genius Loci
Don't feel bad if you don't know this Latin phrase. Unless you have studied Architecture you may not be familiar. It simply means, "To look as if it Grew There". Frank Lloyd Wright's "Falling Water" is likely the best example of a home that is perfectly suited to the space. He used locally sourced materials to anchor the home and landscape to the site and nobody can argue that it does appear as if it had always been there.
Take this as an example of what every "Exterior Designer" should strive for. Grow the deck from the home as a natural extension. Similar choices for finishes, decking to match the floors in the home, matched ceiling heights for vertical structures and draw finishes and details from the interior and entrance of the home for something that blends perfectly. An outdoor space that blends with the home will look good for longer and maintain value over something that fits the trends of the moment.
Safety and Liability — Do No Evil!
Another stifling factor is safety, code and zoning issues and liability. Every area has zoning issues from lot coverage allowed, to conservation / flood plain allowances, to proximity rules. (how close you can build to the lot line). It's up to a professional designer to discover these as they relate to any property — or know where to go to find out.
Code is the bare minimum. Code is created as result of law suits where someone experienced loss due to what someone built and they sued the examiner's office as a result. This does not indicate that they know anything about what we build — they just inflict the Code as it has been mandated through litigation. If you perceive danger or the possibility of injury or failure within what you design, just don't do it.
Further, there are hundreds of things that code officials don't know about building that maybe they should — however it is the only checklist presently available. Treat it as a flawed document that offers minimum specifications. Exceed it wherever possible. Larger Joists, flashings and workmanship can double the durability of a deck beyond minimum code requirements — so if you are building a brand, it's just good practice.
Lawrence Winterburn is an Exterior Designer specializing in woodwork and "Outdoor Living Areas" with 30 years experience based in Toronto and Barrie, Ontario. He is the founder of "GardenStructure.com" and is an integral part of the "Deck Store" design team. He is known for showpiece outdoor and architectural features worldwide. See his work at www.gardenstructure.com and www.deckstore.ca.