Getting a Grip on Railings: Fortress Railing Products
Fortress Railing
creates iron, cable, glass, and aluminum railings, and metal balusters in six distinct lines, complemented by a generous range of accents, ornaments, and lighting options.
FE26 Iron Railing
Fortress's FE26 Iron Railing line is pre-welded traditional styled iron railing, built with layered construction: pre-galvanized iron, then a galvanized zinc coat, followed by a zinc phosphate coating for corrosion resistance and paint adhesion, then a DuPont® e-coat, and finally a DuPont® premium powder coating. The result is a strong and highly durable railing material. Because it is so weather resistant, the Fortress FE26 is virtually maintenance free: the finish does not need painting to keep its appearance.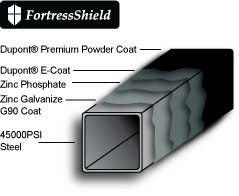 FE26 railing material is superior to all of composites, wood, or vinyl on at least one aspect of appearance, cost, durability, or strength and in some comparisons is superior in all ways.
The FE26 railings come in 6 foot and 8 foot sections, with 1″ rails and 5/8″ pickets; and in "Gloss Black", "Black Sand" textured, or "Antique Bronze" textured finishes.
The railing system can be customized with numerous accessories: a full suite of panels, accent panels, brackets, knuckles, ornaments, scrolls, posts, post caps and bases, and handrails. The variety of components makes for almost infinite customization, easily constructed. The result is an installation with a clean and polished look.
FE26Plus Iron Railing
In additon to the FE26, Fortress makes the FE26 Plus, a more heavily-built line ideally suited to multi-family and commercial installations. Hinges and fittings are all commercial grade.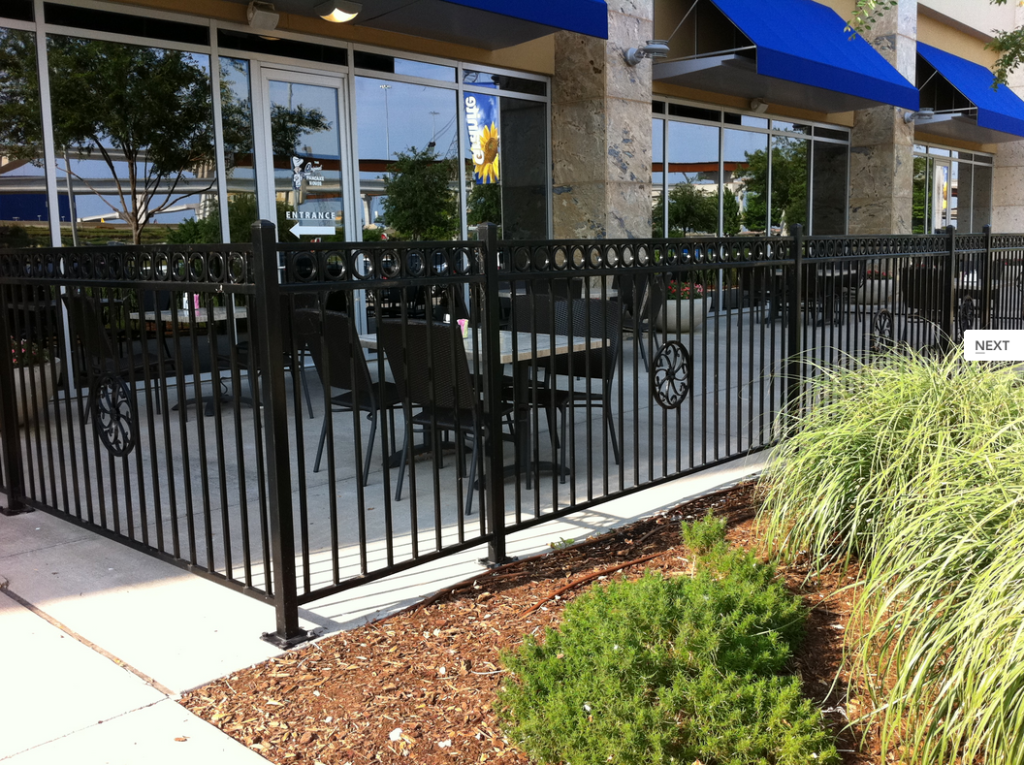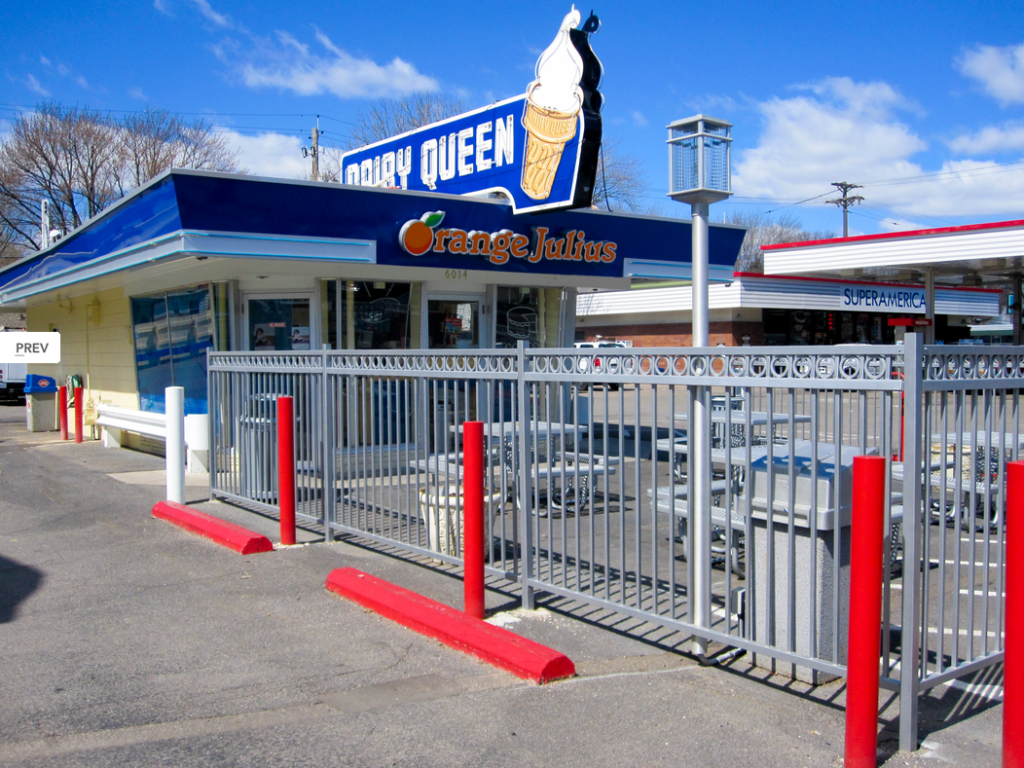 The FE26 Plus line is made of the same FortressShield layered steel as the FE26, but the pieces are more robust: the FE26 comes in 8 foot pre-welded sections with 1.25″ rail and 3/4″ pickets. The FE26 Plus is available in Gloss Black.
FE26 Plus Railings come with a ten year manufacturer warranty.
Cable Panel System
The Fortress Cable Panel System is a new system in the Fortress Railing line.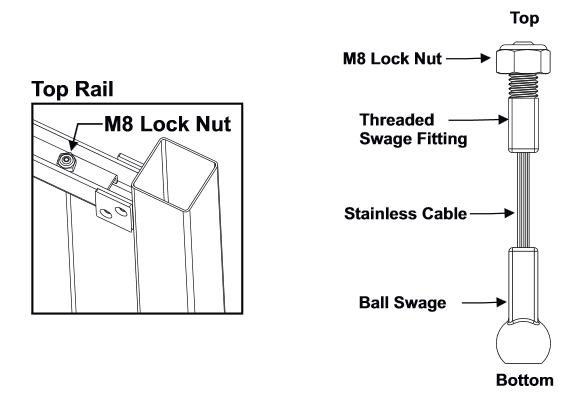 Its distinctive characteristic is its rails, made with 316 marine grade stainless steel cable. Each pickets is a cable with a concealed connector at the bottom and a concealed tensioning nut at the top. Panels can also be bought pre-assembled.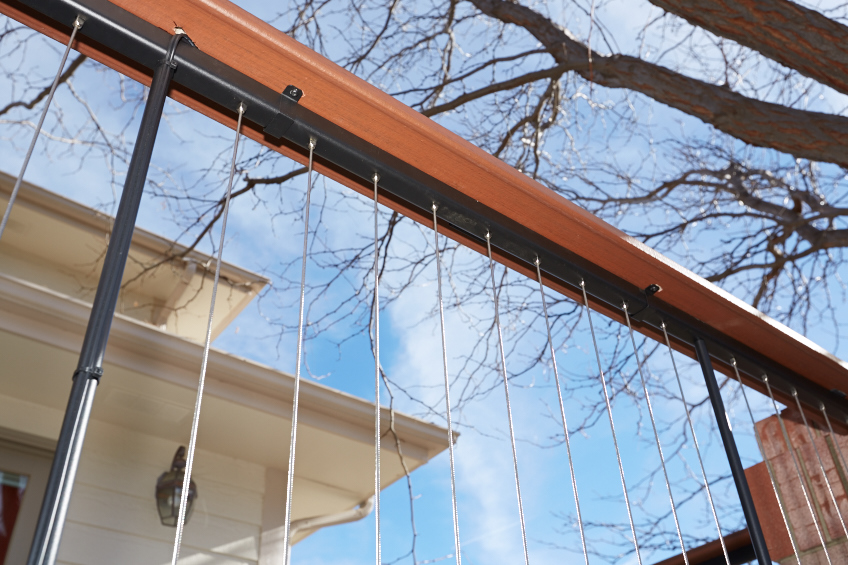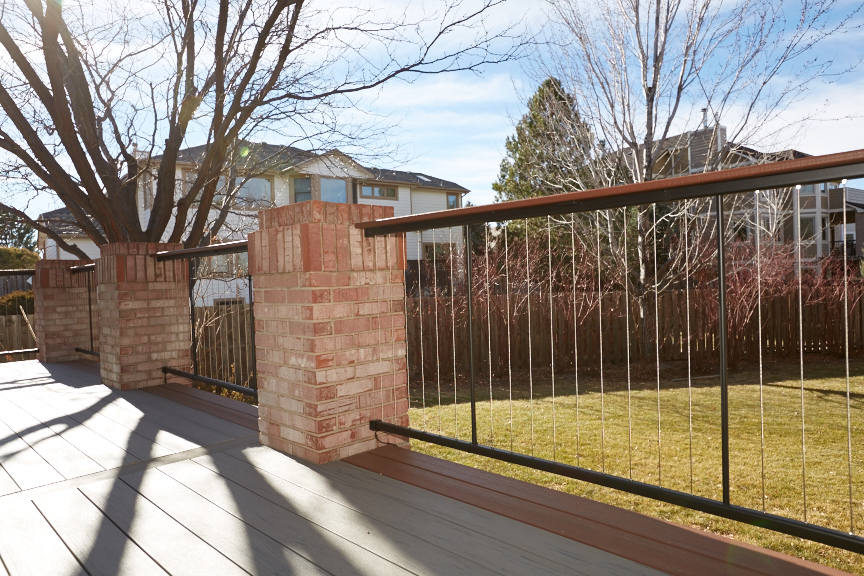 The cable panels provide a clean and elegant look, in a material that is virtually indestructable, and come with a 15-year warranty.
Al13Aluminum Railing
Fortress's Aluminum Railings are a fully welded panel system with superior strength, designed for use in a variety of environments and for ready installation. It comes in 6′ & 8′ pre-welded sections (1-1/8″x1-5/8″ rails, 3/4″ pickets) and works well in a variety of environments. Available in standard Gloss Black, White, and Black Sand, Fortress aluminum railing is made of 100% recyclable material.
Pure View Glass
This system offers the ultimate view of surrounding scenery, and the strength and durability of tempered glass panels. When a view that would otherwise be obstructed by railing panels is important, Fortress Pure View Glass is the ideal solution.
Both straight and stair options available for panels that slide into pre-routed slots in the top and bottom rails. The system is cost effective and elegant glass railing system, and eliminates custom cutting of glass panels.
Balusters
Fortress also makes a range of balusters for use in customized railing construction. The balusters come in the Vienna, Vintage, and Mega series.
The Vienna Series are a traditional wrought iron design. Constucted of 100% pre-galvanized and powder coated, they are available in Gloss Black, Antique Bronze, and Black Sand, and in two designs: belly and bow. Installation is a simple surface mount.
The Vintage Series offers a twist from standard baluster designs with Plain, One Basket, Two Basket, Twist, and Two Twist options. All are 100% pre-galvanized and powder coated and can be simple rail-to-rail or surface mounted.
The Mega Series harmonizes with other decking materials with its square profile. Like the other Fortress balusters, the Mega Series is 100% pre-galvanized and powder coated, and is available in Gloss Black, Antique Bronze, and Black Sand. A variety of designs fills out the series: Plain, One Basket, Two Basket, One Twist, and Two Twist. Rail-to-rail installation is simple using Fortress hardware.
Extensive Installation Guidance
Fortress's product line includes one of the most extensive set of installation guides in the industry, ensuring that your project runs smoothly.
Custom Design
As well as providing a wide range of off-the-shelf railing components, Fortress Railing can design and manufacture custom railings for specific needs. Customization extends to colour as well, and Fortress Railing powder coatings can be created for premium finishes for specialized requirements.
For the best range of railing material options and designs for your deck, contact The Deck Store today to look over the full Fortress Railing line.