One Material, Two Sides: Resysta is a True Alternative to Tropical Wood
"Resysta is extremely resistant and provides for an especially beneficial eco-balance"
Resysta manufactures an environmentally friendly decking system that provides the look of wood with a smooth or corrugated face. Resysta's new technology of PVC rice husk is resistant to weather, pests and fungal decay as well as cracks, splinters and swelling. This low maintenance product is available in many colour shades due to the company's environmentally friendly Resysta Glazes. This amazing product has been granted the Reddot award in 2012 along with others due to its quality and customer satisfaction. In addition, Resysta offers a 25year warranty to ensure that their customer's satisfaction is guaranteed!
Resysta Floor-Board
Also check how Resysta materials can be used for siding and cladding
Resysta® One Material, Endless Possibilities
Water resistant, sustainable and almost identical to tropical wood – all these characteristics open a variety of possibilities in using Resysta. Outdoor furniture, floor coverings and decks of ships are just the beginning. Further examples are house facades, wellness and wet areas. Resysta is not subject to any fluctuations in size caused by humidity and therefore is perfectly suitable for surface treatment. Whatever the future will look like – it is made of Resysta.
Resysta – The Future Material
Already today, Resysta meets tomorrow's technical and ecological demands. Owing to the high durability and sustainability Resysta offers, completely new applications are possible. The fibre reinforced hybrid material is produced of approx. 60% rice husks, approx. 22% common salt and approx. 18% mineral oil, which makes it both environmentally friendly as well as extremely weather resistant against sun, rain, snow or salt water. At the same time, Resysta requires minimal care and offers the look and feel of wood. Water resistant surfaces with the look of wood are Resysta's future. Wait and see!
Minimum Care, Maximum Look
Resysta is sophisticated as far as its look is concerned, but not very demanding in maintenance. The fibre reinforced hybrid material is absolutely water resistant. Therefore, cracks and splinters are a thing of the past. Also, insects and fungi cannot harm Resysta. In terms of maintaining Resysta, the most important thing is: lean back and enjoy!
A Good Feeling With Resysta
Resysta does not only look like wood – it also feels like it. In order to achieve the typical "tropical wood feeling" a special procedure is applied. To touch Resysta does not only feel good, it also surpasses nature's model in this respect. Thanks to its special composition, the surface stays free from cracks and splinters in the long term. Injuries caused by wooden splinters are therefore a thing of the past. Even after years, the future material ensures an agreeable feeling.
Applications
All the very exceptional properties make Resysta extremely resistant to weather influences like sun, rain, snow and ice, salt- and chlorine-water. Resysta does not swell, crack, splinter or rot. This we guarantee for 15 years.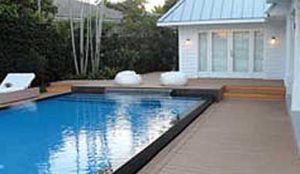 private villa | Key Biscane
---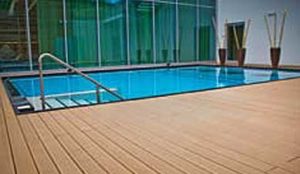 hotel pool | Kitzbühel
---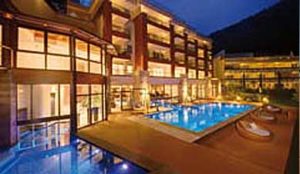 outdoor hotel facility | Meran
---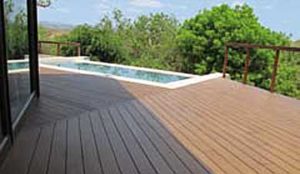 golf club | Cape Town
---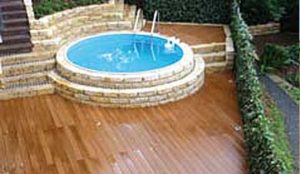 private house | Dresden
---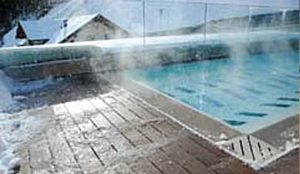 outdoor hotel pool | Sölden
---