Versailles Outdoor Curtains: The Final Male Frontier
Curtains! Just the mere mention of the word invokes excitement in most women…and utter despair in their male counterparts. Rarely can a topic result in such polarizing reactions between sexes…well, unless you count romantic comedies, candles or weddings.
Okay, so maybe men and women actually differ on a lot of subjects come to think of it. But one thing they can definitely agree on is their need to make their homes and yards enviable.  Every couple wants to create space that will leave their friends and neighbors raving about their selections, whether it be their choice of furniture, paint, décor or overall design. To create this effect, attention to detail is key. And that (unfortunate as it may be), sometimes requires paying attention to things such as curtains.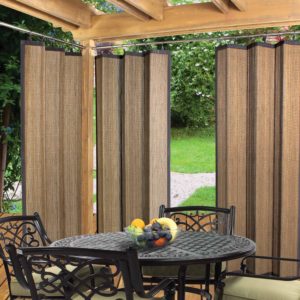 But fear not men! Throughout several years of research and devolvement, Versailles Home Fashions Inc. has invented numerous products that makes curtain shopping reasonably bearable. Operating for over 25 years, Versailles has been a major international player in the world of curtains and draperies for several decades. Anything from shower rods to tassels and tie backs to metal and wood accessory hardware can be had from this manufacturer, and the quality and workmanship is second to none.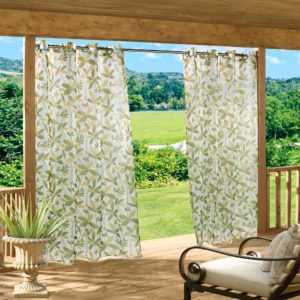 But what really makes Versailles stand out from the crowd is its unique collection of indoor/outdoor curtain products. Available in a variety of styles, fabrics and colors, Versailles blends the look of ancient Mediterranean extravagance with modern technology and convenience. The result is one of the most visually stunning product lines around, with a price tag that is affordable for most any budget. The patented "Easy Glide" ring top mounting system makes operation a breeze, and maintenance couldn't be any less time consuming if the curtains cleaned themselves (they don't guys, relax). Most dirt and dust comes off effortlessly with a soft brush, and even the peskiest debris can be bested by a few seconds work with a standard vacuum cleaner. You can now easily achieve the look of an ancient Roman shade at a fraction of the cost, without having the nuisance of hanging or dangling cords.
A Gallery Of Versailles Products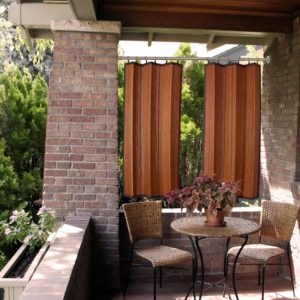 Perhaps the most attractive option in the Versailles product line is the collection of bamboo curtains and accessories (made for both indoor and outdoor use). This new collection is water resistant and made of 100% bamboo, making it a reliable and eco-friendly option with multiple uses. It comes in two standard sizes (63" and 84") and several colors, including Espresso, Tan/Espresso Stripe and their new Cedar offering. Installation is literally as easy as putting up a curtain rod (because it is one), and the durable rods are available in either spring or screw tension models. They can be purchased in either Espresso or Brushed Nickel colorations, so matching to any color scheme is no longer an issue. A perfect complement to outdoor living rooms and open-air attachments, Versailles is a curtain even men would be proud to display inside or outside of their home. With so many options to choose from, we are confident that not only will you find the perfect piece to accent your space… but you may even surprise yourself and have fun doing it.



Looking To Accessorize Your Living Space? Contact The Deck Store today to get started!