SHADOE® TRACK: An Acceptable Cheating Endeavor
Throughout history, cheating has been about as prevalent as breathing, eating and taxes. Your siblings cheat at board games, students cheat on tests and exams, gamblers cheat at cards, and spouses cheat on each other. None are foreign concepts to mankind, and most are accepted as an eventuality no matter what the arena. In fact, numerous historical figures have propelled themselves into mythology and folklore due to the innovative ways they found to cheat others (not to mention finding a lot of fun in the process!). Names like
Al Capone
,
John Dillinger
,
Harry Houdini
,
Robin Hood
and even
Lance Armstrong
turned the art of cheating into lucrative lifestyles…while the likes of
Ben Johnson
,
Enron
,
Richard Nixon
, and the
MIT Blackjack Team
didn't fare so well. But what exactly
is
cheating anyway? To most, it is defined as breaking the rules in order to gain an unfair advantage. If this is so, does it mean that most new advances in technology are "cheating"? Advances that might, say, help you to build a faster, longer-lasting deck?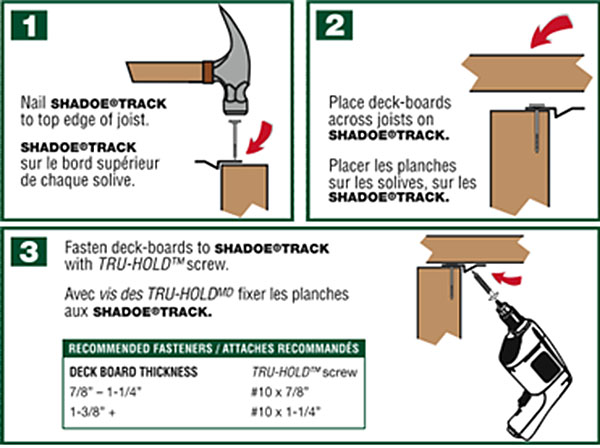 Now let's change the topic ever so slightly. After looking at that unsightly mountain of kindling you call a deck for far too often than you have cared to, you've decided to make the leap; you are ready for a new deck, an improved deck, a deck that has neighbors poking their heads over their fences to try and catch a glimpse of it. You have come up with the perfect design (hopefully with The Deck Store's help!), selected your materials, shopped for add-ons and are now ready to go. Concrete and sonotube has been laid for your footings, the frame for your new masterpiece has been sturdily constructed, and it is now time for the cherry on your sundae: your surface decking material. Just like selecting the material itself, there are countless ways with which to connect your decking to its framing. The traditional method of screwing them into place gives you strength and stability, but leaves you with unsightly screw holes (which can become potential areas of rot later down the line). If you opt for a clip system to hold your boards in place, screw holes are no longer an issue…but you may have to groove boards or purchase specific systems that match your decking, which at times can get pricey. Lucky for you the good people at SHADOE® TRACK have already thought all of this out for you, and have devised a solution that bridges the gap between both worlds.
With the SHADOE® TRACK deck fastening system, tracks are fastened to the joists with specially designed SHADOE® TRACK nails. Screws then secure each board from, preventing water penetration through fastener holes. The concept is as simple as it is genius. No water penetration means no rot, which leads to extended life and beauty for your deck (and less maintenance for you). The track is manufactured to be completely reversible allowing for splices and butt joints to be used, and also accommodates any width of decking. Unsightly screw holes are now a thing of the past, and in fact, the holes created by the nails holding your SHADOE® TRACK in place actually help to drain water away from them! And best of all, SHADOE® TRACK comes in 4 or 8 foot lengths (for project versatility) and is accompanied by an unbelievable 30-Year TRANFERRABLE Warranty!
Only have a basic understanding of outdoor tools and their uses? Not to worry. Installing SHADOE® TRACK is quite literally as easy as 1-2-3. Simply fasten SHADOE® TRACK to the top edge of the deck joist using a basic hammer and nails, place your surface deck boards across the joists (on top of the track) at the desired interval, then fasten the deck boards to SHADOE® TRACK from below…and you're done! There is no extended periods spent measuring, or tedious moments with complicated machinery and instructions. If you can build a paper airplane, than you are pretty much install the SHADOE® TRACK system. It really is that easy.
Still have unanswered questions? Make a point to stop by The Deck Store and introduce yourself! We can give you a personal introduction to the SHADOE® TRACK system (yes, you can touch it), as well as answer any general concerns you may have regarding backyard restoration. Our design and sales team are some of the most knowledgeable in the industry, and we enjoy talking shop and interacting with people as much as possible. And if you already have an idea in mind for your next project and are just looking to get started, contact us today. We're so good at deck design and construction…it's almost like cheating.