The Mantis Deck Clip System™
Thinking of a way to Fasten your deck? Check out the Mantis Deck Clip System, available at the Deck Store!!
Easy to Install
No fasteners on deck board surface. Even the first and last boards are free of surface fasteners unlike other systems.
Deck Boards elevated off of joists with the clip
Allows deck boards to completely dry out – Not Rot or Mold
Powder Coated High Strength Steel makes sure boards stay tight
Ok for ACQ treated joists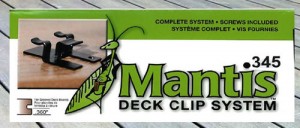 Comes complete with screws
Each box will fasten 50 sq. ft. decking based on 16" O.C. joists.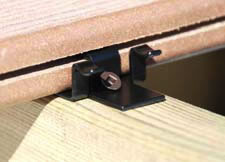 BONUS – FREE STARTER AND FINISH CLIPS included with screws.
Thirty Year warranty against loose deck boards
Each carton includes 90 Mantis™ Clips + 5 starter clips + 5 finish clips and all the fasteners needed to install.
Two profiles to choose from. The Mantis 345 is designed for deck boards with a .360" profile and the Mantis 396 is designed for deck boards with a .416" profile. If you have questions call us at 905-277-3700 or toll free at 1-866-618-4154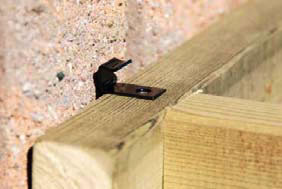 Great for: composite decking, hardwood decking, cedar, redwood, pressure treated, etc.
AVAILABLE IN STAINLESS STEEL FOR COASTAL APPLICATIONS.