TimberTech Deck Lighting for Sophisticated Evenings on the Deck
Lighting has always been the way people have extended their day, and the
history of lighting
shows its enormous role in both work, religion, and entertainment.
Early candles
were a common light source, and although they have been used since at least Roman times, they were traditionally expensive and seldom used in private homes until around the 14th century. The increasing availability of candles and
candlesticks
led in large part to increases in home industries and literacy. For those who could not afford candles, the more ancient
rushlight
 – a rush dipped in fat and held in a clamp — was an alternative.
Oil lamps
, fueled with liquid paraffin, sesame oil, fish oil, or other combustable liquids are also ancient, and the inventions of the wick and glass chimney provided a smaller and more controllable flame. All these ancient forms of lighting had similar drawbacks: fire hazard, cost, and the need for continued attention. Today the
LED lamp
is our candle, providing cost effective, safe, and trouble-free lighting.
Pushing Back the Night
The thing about a beautiful deck is that it becomes a place where you want to spend as much time as possible. Nothing is better than sitting out on a summer night with friends, drinks, and food, and such times sometimes seem to end too soon. The hit song "Patio Lanterns" by Canadian Kim Mitchell captures the spirit perfectly.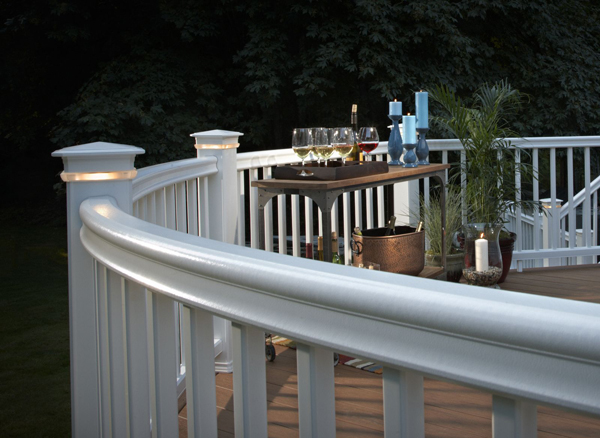 To create beautiful patio lighting today, the TimberTech deck lighting system closely integrates with the construction of the deck itself. High-efficiency LED lighting fixtures are integrated into post caps, stair risers, beneath rails, into the deck surface itself, and as accent fixtures. Unobtrusive lighting that enhances atmosphere on the deck can make sitting out in the evening a magical experience.
The TimberTech system is designed for use with the TimberTech "RadianceRail" and "RadianceRail Express" systems as well as with the AZEK deck rail systems.
The TimberTech system includes all the hardware, wire, connectors, wire guides, dimmers, and transformers to make installation as simple and reliable as possible. The system includes a five year warranty.
If you want an elegant lighting system for your deck, contact The Deck Store today to look over the full TimberTech line.