TimberTech: The Definitive Guide
If you've spent enough time outdoors enjoying nature, you've no doubt come across her most important and abundant resource: trees. These lovable members of the plant family give us so much, while expecting next to nothing in return (except some nice dirt and plenty of water…who can say no to that?). They provide us cool shade from the sun, nourish us with fruits and nuts and selflessly give of themselves so that we can construct things such as paper, houses, boats and entertainment units (not to mention make it possible for us all to breath). Yes, timber is of great importance to modern man…and is pretty fun to yell when something falls. But what would you get when you combine the advantages of this glorious substance with technology? Well if you're in the market for a new outdoor living space or deck, you'd get an industry leader.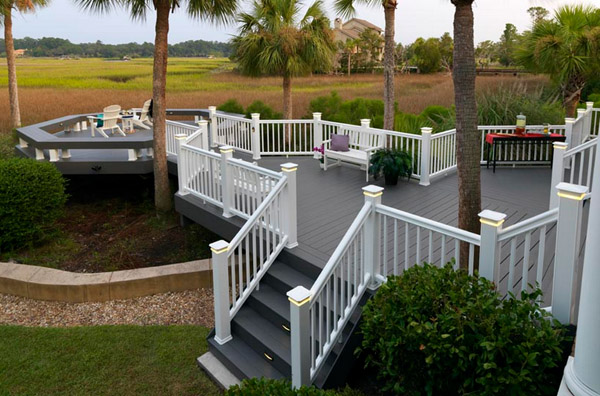 If you've never heard of TimberTech, chances are you haven't been doing your research. A giant in the decking and outdoor living world, TimberTech is the industry leader in long-lasting, low-maintenance composite decking products. Utilizing state-of-the-art manufacturing practices and product ingredients, TimberTech has been a consistent trendsetter since its inception, and each new product line only serves to expand upon this point. Everything from decking to railing, fences and lighting can be had from TimberTech, and their quality is second to none. They are truly a one-stop-shop for products regardless of the scale of your project, but in the interest of time, we're going to zero in on what really drives their multi-pronged revenue stream: composite decking.
Now we've talked about composite decking before in this space (as evidenced below), but aside from our recent expose on fellow industry heavyweight Trex, we have yet to dive into individual manufacturers with much depth. But as is often the case with things of power and influence, TimberTech is one of those rare entities where special treatment is required. So in order to pay proper respect to such an important industry player, we have developed our own exclusive, definitive guide to TimberTech composite decking. Broken down into three distinct categories, we will go through the entire line of composite decking products here, providing you with all the information you need to become an informed and educated consumer by the time you reach the bottom of this page.
1.) Wood/Plastic Composite:
The entry-level product to the TimberTech family, this line is available in three different applications: DockSider, TwinFinish and Reliaboard. Each come with their own unique color and texture options, and are manufactured using an eco-friendly process of wood fiber and plastic combinations. Most come in either sixteen or twenty foot lengths (they can then be cut to length on site), and can be solid or grooved cut to accommodate a variety of clips and installation options. As with every TimberTech composite decking product, they all come with a 25-year limited warranty for residential customers, and are resistant to color fading and interior rotting. The surface of all three offerings are comfortable to walk on and slip resistant, plus come with the added bonus of affordability. Naturally the higher you progress in product lines, the higher the price tag…this is an unavoidable fact of purchasing. But for a good, quality, dependable composite board, any of these products will leave you with a decking project you will certainly enjoy for years to come.
2.) Capped Composite:
The best-selling line of decking from TimberTech, their capped composite offerings truly have something for everybody. Like their wood/plastic composite counterparts, capped composite is available in three distinct categories as well, all under the Earthwood Evolutions umbrella: Tropical, Natural and Terrain. After observing the success of their entry-level products, TimberTech decided to up the ante and take scratch, stain and fade resistance to a whole new level with this collection. Capped in a high-quality polymer shell, Earthwood Evolutions provides extended quality and endurance for those willing to increase the amount of their investment. The natural wood graining is also more prevalent in this line of products, and really makes for an esthetically pleasing alternative to traditional pressure-treated boards. Color options are rich and inviting, and really set a splendid tone for your backyard atmosphere. Lightweight and easy to install, the Evolutions line is designed to not only provide minimal maintenance for the life of your deck, but also to increase the level of convenience during installation. With numerous accessories to add for accents and total project completion (such as color matched screws, custom drill bits, custom deck clips, etc), Evolutions provides ideal and complete customization options unmatched in market.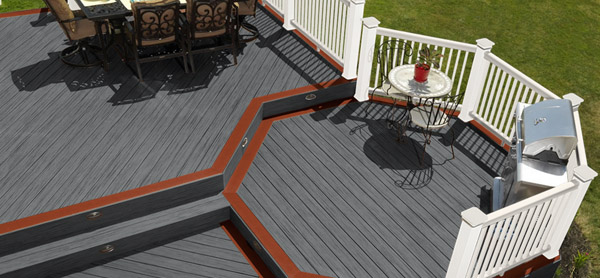 TimberTech Reviews and Testimonials
3.) PVC Decking:
Now we're talking. If you're looking for the Ferrari of the TimberTech fleet, look no further than its newest synthetic offering: XLM. Their highest quality composite decking material, XLM is engineered for the highest possible scratch, mildew and stain resistance, while simultaneously providing a luxurious esthetic look and feel. Available in two unique collections (Natural and Tropical), TimberTech XLM is one of, if not the highest quality composite board available today. Its total PVC construction makes mold and mildew virtually impossible (as there are no organic properties such as wood fibers), and the added durability is definitely worth the increase in price. The flat-grain surface feature makes it slip-resistant (something that is rare in the PVC market), and with no pre-drilling or visible screw holes after installation, XLM is truly the ideal decking surface of choice for both commercial and residential use. XLM is also not lacking on overall looks either, with 6 eye-catching color options to choose from between both the Natural and Tropical collections. The Tropical options are particularly appealing, as they are mirrored to reflect the natural hues of more expensive tropical woods…but not their price tags. The experienced designers and installers at The Deck Store (some of the best in the business, mind you), have been raving about this product since it first hit the market, and both highly recommend it whenever possible to3 all manner of interested clientele.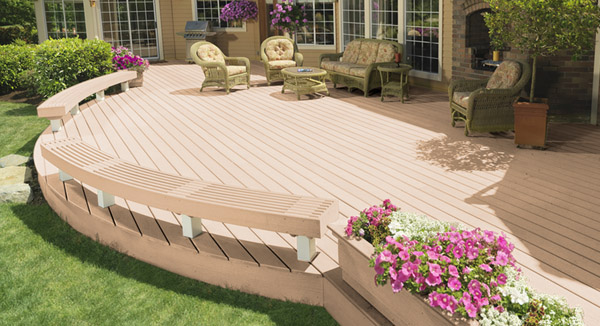 In short, if you're looking for a reliable and durable product, TimberTech is certainly an option to be considered. They have a line of products to suite every conceivable budget, offer an unparalleled warranty (unheard of in the industry), numerous color options and a range of accessories and add-ons that allow you to keep the majority of your deck-related purchases under one roof. You can even download a catalog containing all of these options in one convenient digital file! But if you still need to know more, not to fear. The friendly and knowledgeable staff at the Deck Store are here to help! Contact us today with any questions related to TimberTech, or to just get some general information about your next decking project. After all, we all share the same life mantra: Less work, more life.
Related Blog Posts:
How Consumers Can Navigate Their Way Through the Composite and PVC Jungle