WOLF Decking: The Definitive Guide
Depending on your point of view, mention of the word "wolf" can elicit a response anywhere from favorable to terrifying. If you're a basketball fan from Minnesota, for example, you may associate the word with
Ricky Rubio
or
Kevin Love
. Movie buffs may hear this same word and have a different perspective entirely, perhaps of a
Jack Nicholson horror film
for the early 1990s or a
classic cinematic creature
. Those with military experience may think of a
new form of terrorist attack
, and those lost in the woods after dark may get thoughts of
something far more sinister
. Though all of this mental imagery seems perfectly justifiable to certain individuals, what if we sat all our subjects in a backyard space and asked them the same question again? Would their previous responses still come to mind, or could we perhaps come to a more universal conclusion? Well if any of these mental lab mice have recently renovated their yard, or are in the process of planning a renovation currently, then we would be willing to bet that the word "wolf" has taken on a drastically different meaning for them. That's right, we're no longer talking about a flesh-and-blood creature here (real or otherwise), we're talking about an industry leader in the world of outdoor decking.
Now we've highlighted quite a few major players in the world of outdoor decking before (you can find links to both at the bottom of this post), and it takes a special brand to be able to make the cut onto our "Definitive Guide" roster. You have to be an innovator, an educator and a mediator…but above all else, you have to boast the kind of product line that makes other manufacturers jealous. There are only a select few positions available on the Mount Rushmore of Decking, and we would be committing a terrible injustice if we did not include WOLF in our immortal enshrinement. Broken down into three distinct categories, we will go through the entire line of composite decking products here, providing you with all the information you need to become an informed and educated consumer by the time you reach the bottom of this page.
1.) Capped Composite: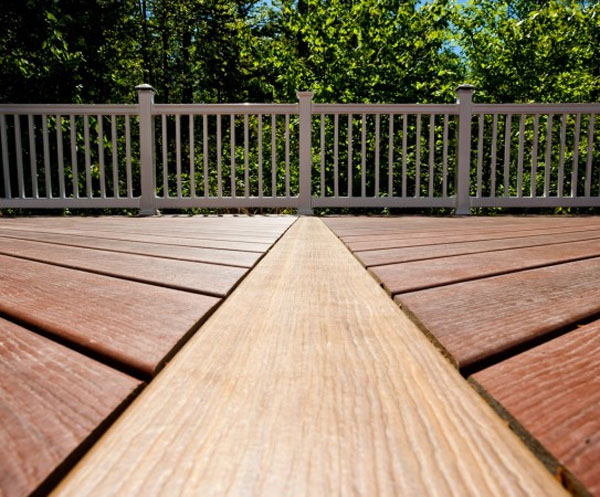 The newest line of decking from the WOLF brand, the Island Collection of capped composites truly have something for everybody. Like their wood/plastic composite counterparts, capped composite is available in several distinct color schemes, all under the Island Collection umbrella: Ipe, Garapa and Mahogany. All have unique features and benefits to brag about, but the common denominator among them is the added resistance to scratching, staining and fading. Capped in a high-quality polymer shell (similar to what encases a golf ball), the Latitudes collection provides extended quality and endurance for those willing to increase the amount of their investment. The natural wood graining is also more prevalent in this line of products (with varying levels of distinction for each category), and really makes for an esthetically pleasing alternative to traditional pressure-treated boards. Color options are rich and inviting, and are inspired by more expensive tropical woods from around the globe. This combination really goes a long way in setting a lavish tone for your backyard space, and gives you the look and feel of luxury at a fraction of the cost. Lightweight and easy to install, the Island line is designed to not only provide minimal maintenance for the life of your deck, but also to increase the level of convenience during installation. WOLF also offers you numerous accessories and accent pieces for total project completion (such as color matched screws and plugs, custom deck clips, etc), allowing the Island Collection to provide you with ideal and complete customization options rarely seen in market.
2.) PVC Decking: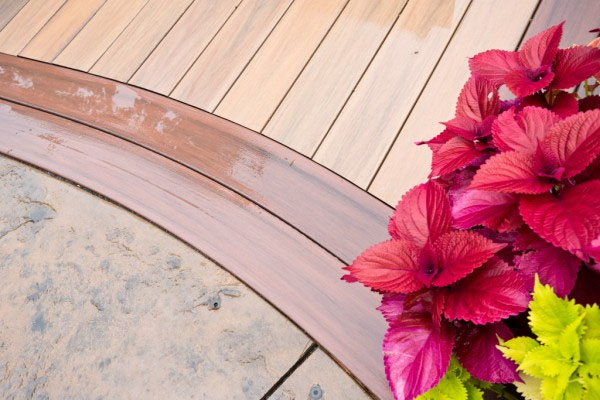 Now that we've primed your decking engine, let's talk about what really makes WOLF an industry leader: its signature PVC collection. If you're looking for a prince in a sea of paupers, look no further than WOLF's synthetic line of PVC offerings. With four distinct collections to choose from (Prairie, Tropical Hardwood and Classic), this line is engineered for the highest possible scratch, mildew and stain resistance, while simultaneously providing a luxurious esthetic look and feel. Its total PVC construction makes mold and mildew virtually impossible (as there are no organic properties such as wood fibers), and the added durability is definitely worth the increase in price. The signature wood-grain surface feature is consistent throughout (something that is rare in the PVC market), giving you a finished project that will make you the envy of the neighborhood. WOLF's PVC decking is also not lacking on overall looks either, with 9 eye-catching color options to choose from combined. All are vibrant and appealing in their own way, and the folks at WOLF have gone through extensive R&D to ensure they have a color option for almost every conceivable project concept. The Tropical Hardwood collection options are particularly well-received, as they are designed to reflect the natural hues of more expensive tropical woods…but not their price tags. This signature collection can also be used for both commercial and residential use, and provides an ideal look and feel whether you are entertaining in your backyard, or trying to impress potential clients. The experienced designers and installers at The Deck Store (the best in the business, in our humble opinion), have been raving about this product line since it first hit the market, and typically recommend a WOLF option during almost every consultation.
So to make a long story even longer, if you're looking for a reliable and durable product, WOLF is certainly an option to be considered. They have a line of products to suite every conceivable budget, offer a competitive warranty, numerous color options and a range of accessories and add-ons that allow you to keep the majority of your deck-related purchases under one roof. You can even download a catalog containing all of these options in one convenient digital file! But if you're still undecided and looking for more answers, the friendly and knowledgeable staff at the Deck Store are here to help. Contact us today with any questions related to WOLF, or to just get some general guidance about your next decking project. You're only steps away from a new backyard space you can be proud of, and nothing gives us greater fulfillment than helping you turn your dreams into reality.
Related Blog Posts:
Timbertech: The Definitive Guide
How Consumers Can Navigate Their Way Through the Composite and PVC Jungle