Free E-Book: 5 Steps to Choosing the Right Deck Contractor
by
If you've ever gone through a renovation project on your home, you know it can be a tedious process. It's usually full of constant inconveniences, noise, and wind sprints down your street after the family dog (I have yet to find a contractor who knows how a gate works). And all that is after you've gone through the painstaking process of selecting the individual or company who was lucky enough to get your business! There has to be a better way…right?
Here at the Deck Store we realize that the most important part of any deck project is finding the right builder to do the work. They have to have the right set of skills, share your vision, and be in your price range. Finding this combination can be a daunting task for any homeowner, so we've thrown on our Superman cape and are here to save the day! Our Vice President, Stan Weiland, has put together his top 5 steps for choosing the right contractor…and you can get all the content FREE, right here in our latest eBook:
[contentblock id=cta-5-steps-right-contractor]
Its chalked full of useful information and thoughtful advice, and is definitely a recommended read before you select your next builder.
5 Steps to Choosing the Right Deck Contractor
The rising popularity of family "staycations" have resulted in an increasing number of home owners embracing new and exciting outdoor living trends. Patios and deck have rapidly evolved into a more functional extension of your home space, and the possibilities continue to grow.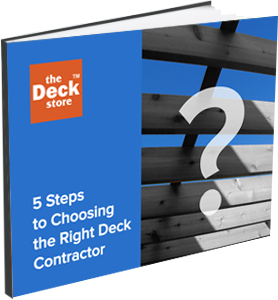 Outdoor space is often thought of as one of the more pleasant areas to spend time and relax with your family, and if designed correctly, can become the focal point of your social festivities for years to come. With so much riding on such a sizable investment, it is crucial to find a competent and experienced deck builder to construct your outdoor space.
Table of Contents
Introduction Step 1: DO background research on the company
Step 2: DO lay out all the fine details of the price
Step 3: DO compare competitive pricing
Step 4: DO choose a contractor that shares your vision
Step 5: Do watch for these danger signs
Useful Links
Recommended Reading