5 Deck Building Tips from a Professional Deck Builder
Are you looking for tips from a professional deck builder to build a functional and trendy deck? A well-designed and installed backyard deck can improve your outdoor living experience. If you're looking to create an outdoor living space for a relaxing retreat – feel free to use this blog as a guide!
Having a stunning and modern backyard deck is a dream for many homeowners. Here are 5 deck-building tips from a professional deck builder to get started on your project.
1. Apply for the Necessary Deck Permits
Before you start the planning process, make sure you have the permit to build. No matter what city or region you live in, there are certain rules and regulations for deck construction in Canada. Start by learning about your municipality's rules. Call your local authority or browse online to gather the list of documents needed. In most cases, you'll also need to show your sketches and drawings. Before starting out sketching, it's best to start by outlining your property line. Know exactly where your property starts and ends. Knowing these will help you avoid a potential refusal.
2. Get a Deck Assessment
If you're remodeling and not building from scratch, it's helpful to get a deck assessment. Knowing how sound your foundation is can help prevent potential hazards. As a part of your deck safety, you should get annual assessments.
A deck assessment will include inspecting:
Stairs

Beam and joists

Deck Supports

Deck Boards

Railings

Other enclosures
When done regularly, deck assessments can help prevent unwanted accidents.
3. Plan Your Deck Layout
The first step in this process is to decide whether or not you would like to work with a professional deck builder. DIY'ing can save you labour costs, however it may cost you more in the long run. If you're not a professional, you'll certainly spend more time planning and constructing your deck. You may also run into problems you don't know how to handle. A professional can build a sound deck up to code.
The second step would be determining the shape and size of your deck. This depends on the property size, and your wants/needs. Depending on your taste and architectural style, your deck should complement the rest of your home.
If you're a first-time DIY'er, you may want to keep it simple. Minimize complexity by sticking to classic shapes like a square. Also consider if you'd like a raised deck, a wraparound deck, a  two-story deck, etc.
4. Choose the Right Deck Materials
In addition to selecting your decking materials, you'll also have to decide on the colour of your railings, enclosures, and hardware. These aren't easy to choose from. Deck Store has a website that can help. The website allows you to choose from hundreds of top-performing decking materials. This can help you visualize your project. Popular categories include:
Composite decking

PVC decking

Dock boards

Railings

Deck & landscape lighting

Privacy screens
Click here to visit the website.
The website makes it easy, but nothing beats the in-store experience. Deck Store has 7 showrooms across Ontario – in Oakville, Toronto, Kitchener, Markham, Mississauga, Oshawa, and Ottawa you can visit!
5. Think About the Long Run
Ideally, you'll want to build a timeless deck. A timeless deck can stand the test of time – and adds value to your house. If you're looking for a deck you can enjoy not only for the Summer but also for the Winter – choose low-maintenance materials.
The Deck Store offers a wide selection of low-maintenance decking materials. 
TIVA

Wolf

Zuri

Clubhouse

TimberTech

Azek

Trex

Fiberon

Endeck
We also offer wood, stone decking, aluminum, composite, and vinyl railings as well as glass, laser-cut metal, and fabric screens. If you'd like to discuss more durable materials for your decking project, talk to us today.
We Are the Market Leading Professional Deck Builders
Ready to get started? Our 7 Ontario showrooms have hundreds of products and a fully interactive environment. This allows you to visualize your project better. You can physically see color options, feel surface textures, and experience comfort. 
Decks are extensions to your home and can significantly expand your living experience. Work with us for a quick hassle-free construction experience.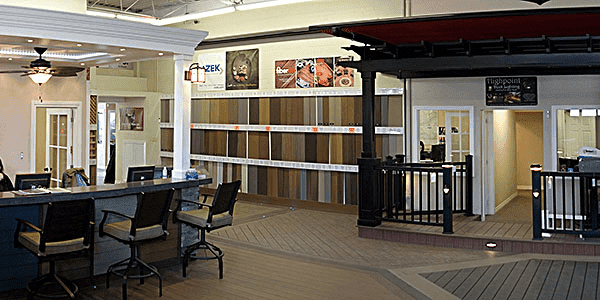 Our showroom in Oakville. Call now.
You can contact us for all your outdoor custom deck needs, and arrange a low-cost on-site visit for more information. You can also keep in touch with us on Facebook and Instagram to get inspired for your project.
To learn more about our team, approach, pricing, and more – visit our website!