5 Modern Backyard Deck Ideas for Summer 2022 You'll Love
Whether you love BBQ nights, or a yoga session under the stars – a modern backyard deck can provide you with a functional space to enjoy your summer nights. With warm weather here to stay, you may be looking to upgrade your backyard deck.
Late spring is a great time to get a deck renovation. Looking for modern deck design ideas? This blog will walk you through ways you can create a modern backyard deck just in time for the summer!


1. Glass Railing for a Modern Backyard Deck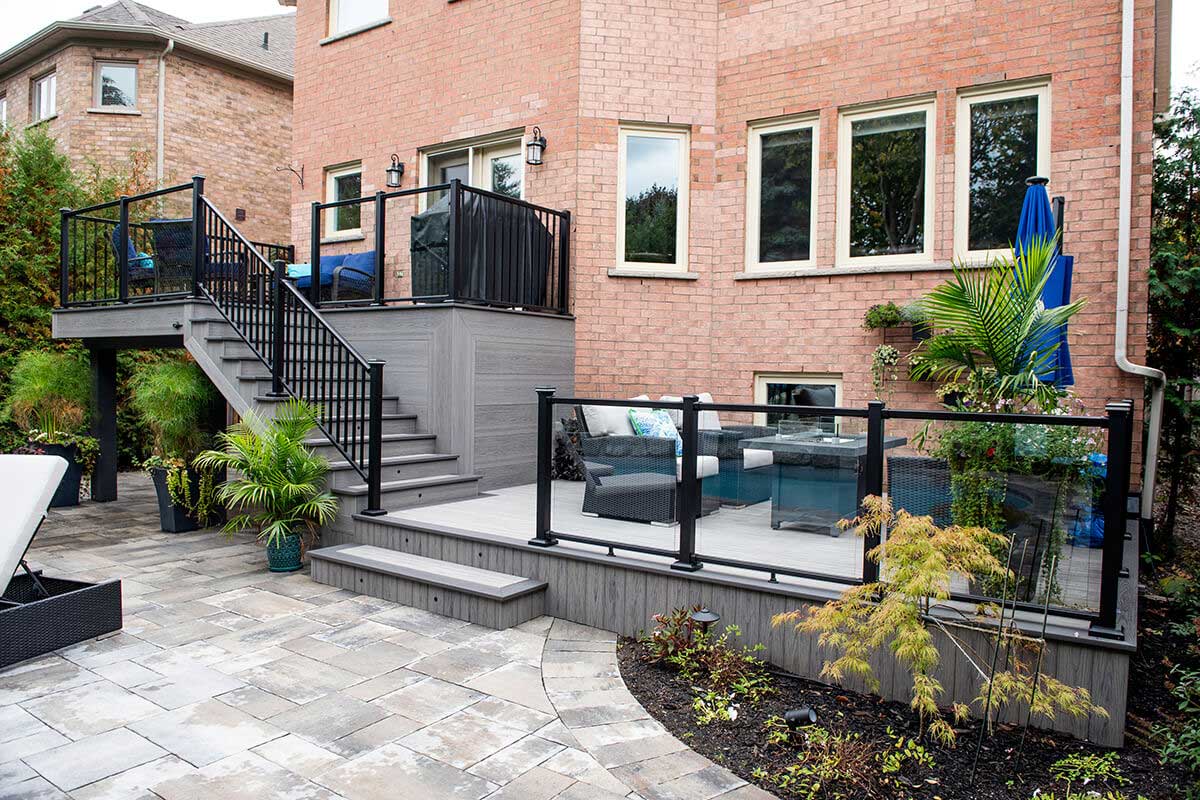 Find this deck renovation here.
If you're gathering modern backyard deck ideas, make sure you add this image to your vision board! Glass is a fundamental element in modern architecture and interior design.
If your deck looks out onto a nice view, you will love glass railings! They can provide you with an unobstructed view – so you can enjoy your outdoor living space even more! Glass railings create a clean and uncluttered environment.
Consider combining glass with wood steps to highlight the modern design. These two elements mix well together to create a trendy deck.
Other benefits include:
Versatility in design: The transparent look gives you more freedom when designing your outdoor space.
Durability: Depending on the type of glass you use, it's unlikely to crack or break.
Cons include:
Glass may be pricey – but it can save you money in the long run with its durability.
 It will require regular cleaning.
2. Shade Structure Roof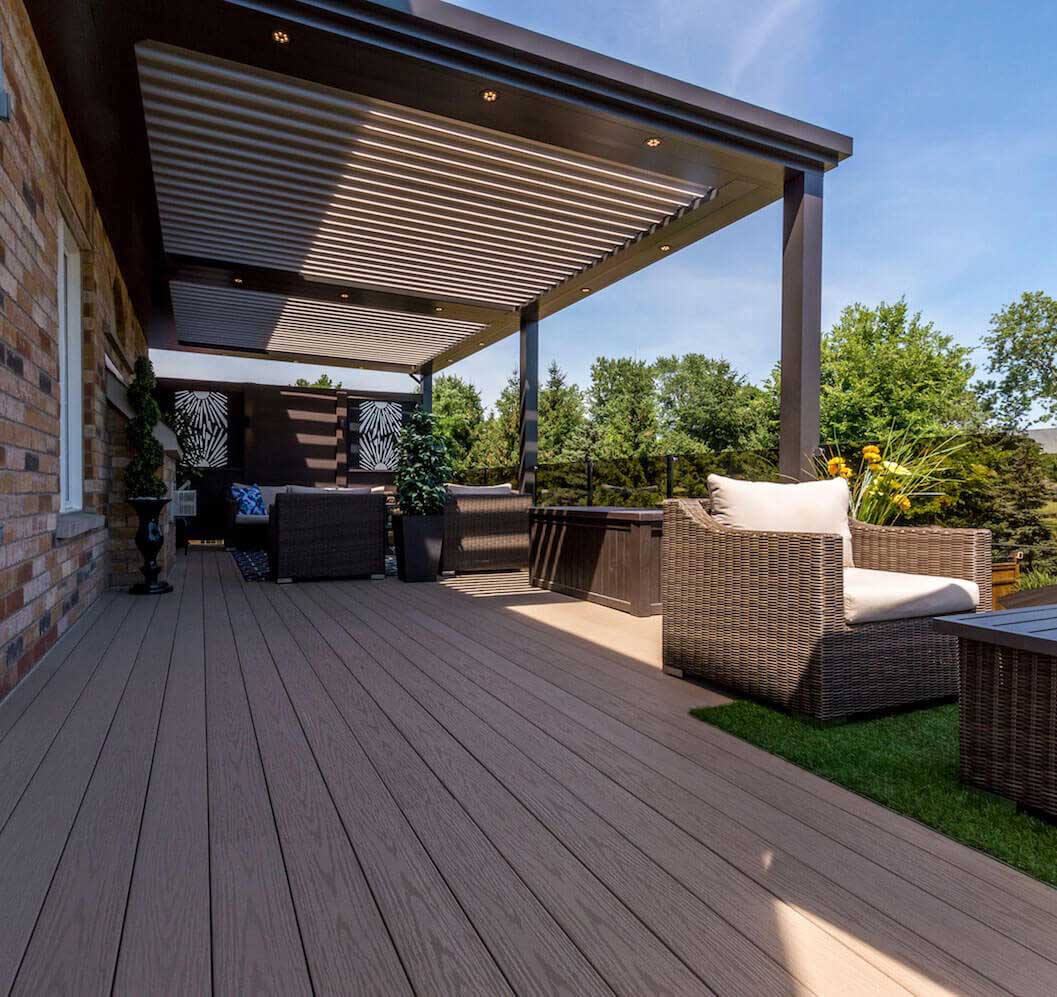 Find this deck renovation here.
Sunny days are perfect for spending time outdoors. However, too much sun can be unhealthy and make you uncomfortable. If you're looking for a shade solution, consider getting a Struxure roof.
With a small lounging area, this project challenged us to create a functional space with an open feel. This Struxure roof created the perfect shade by protecting the deck while also letting some sunlight in. If you wish, you may also get an extendable fabric for more protection.
The Struxure shade roof also comes with LED lights installed. If you like to entertain at night, the roof can illuminate the space and create a cozy environment. You may enjoy your deck all through summer and fall!
Other benefits include:
Blocks harmful UV light.
Low maintenance structure.
Cons include:
May be costly to install depending on the material.
3. LED Step Lights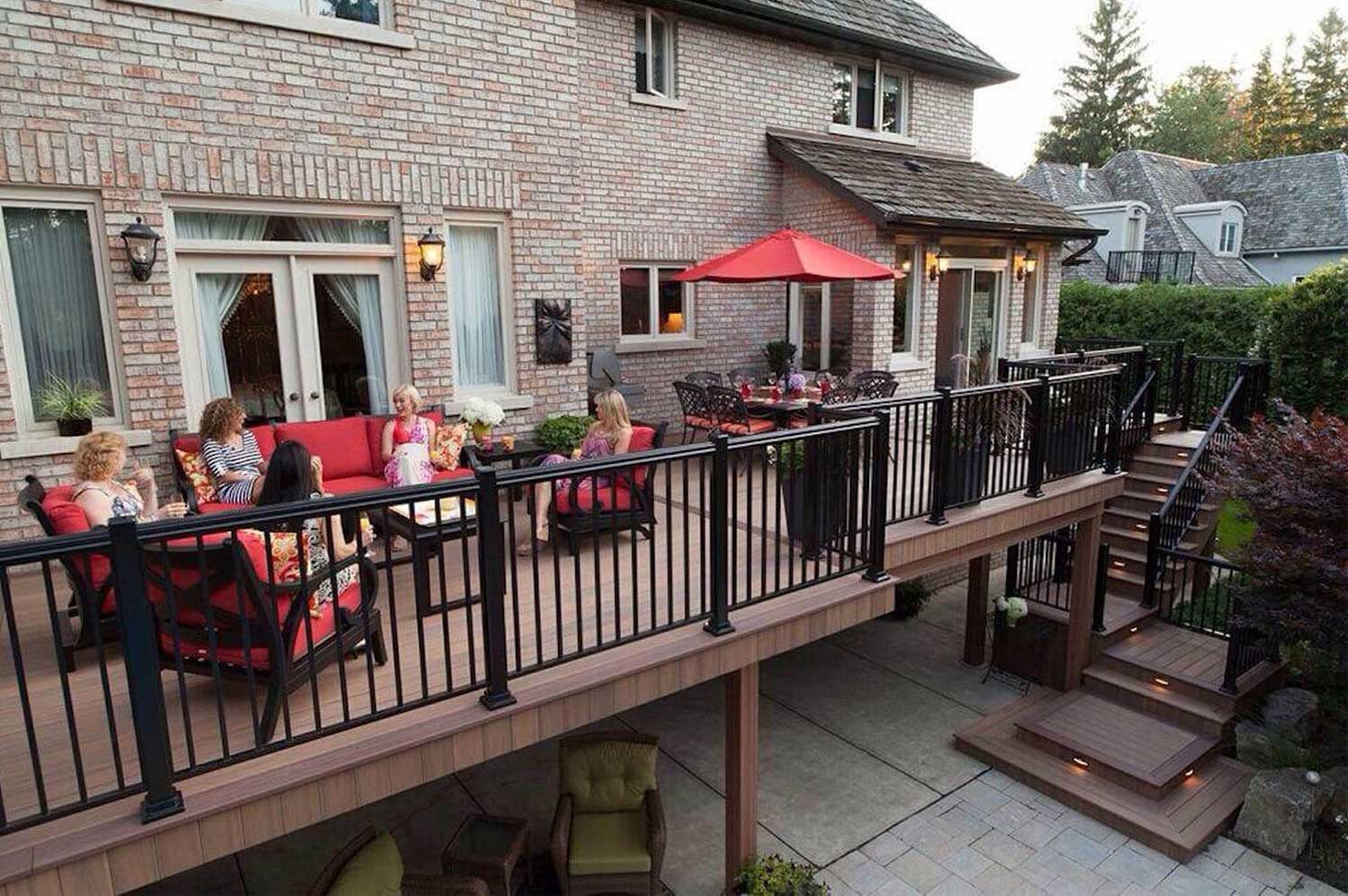 Safety, ambiance, and functionality – all achievable with LED step lights! These small lights can provide additional lighting to your outdoor living space. Whether you have kids and elderly people in your household, or not, safety comes first! These small lights make a huge difference in illuminating the environment!
You can enjoy your deck day and night while adding beauty and personality to your deck. LED lights have no visible screws, making it perfect for achieving the clean and modern look.
Other benefits include:
Versatility: Brightness and colour all depend on your taste!
Durability: LED lights last a long time!
4. Lounge Area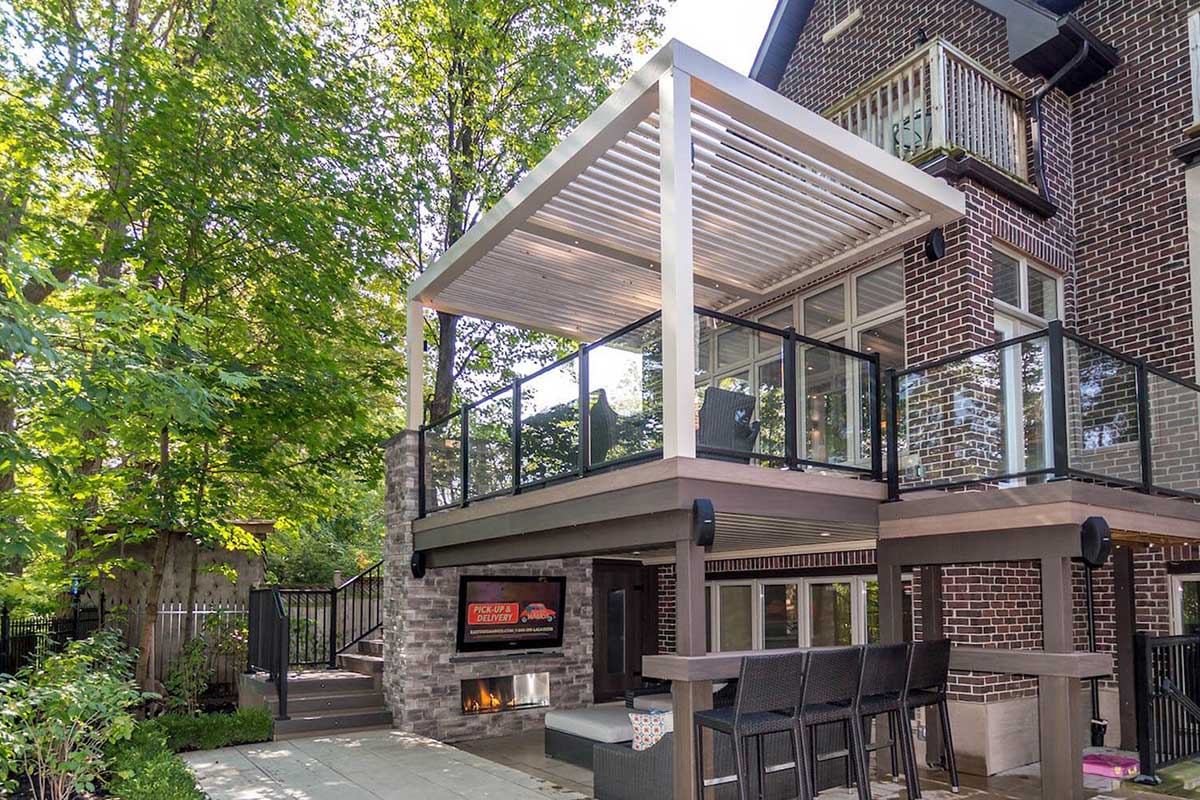 If you have enough space, a must-have for a modern deck is a lounge area. A lounge area will help you relax and unwind after a long day. You can use this space to have drinks, work out, and entertain friends and family. You can even install an outdoor tv projector and screen to maximize your enjoyment.
An outdoor area can add to the value of your house. It can work as an extension to your living room, providing you with extra space. It also adds to your storage space.
We recommend installing a patio cover for outdoor living spaces. Summer weather can be unpredictable. If you'll have furniture on your patio – a patio cover can protect you from unwanted damage.
Other benefits include:
Spending more time outdoors can help reduce your stress.
An outdoor lounge area provides extra space for outdoor activities.
Cons include:
May be challenging to protect the outdoor furniture from the weather, insects, bugs, etc.
5. Poolside Deck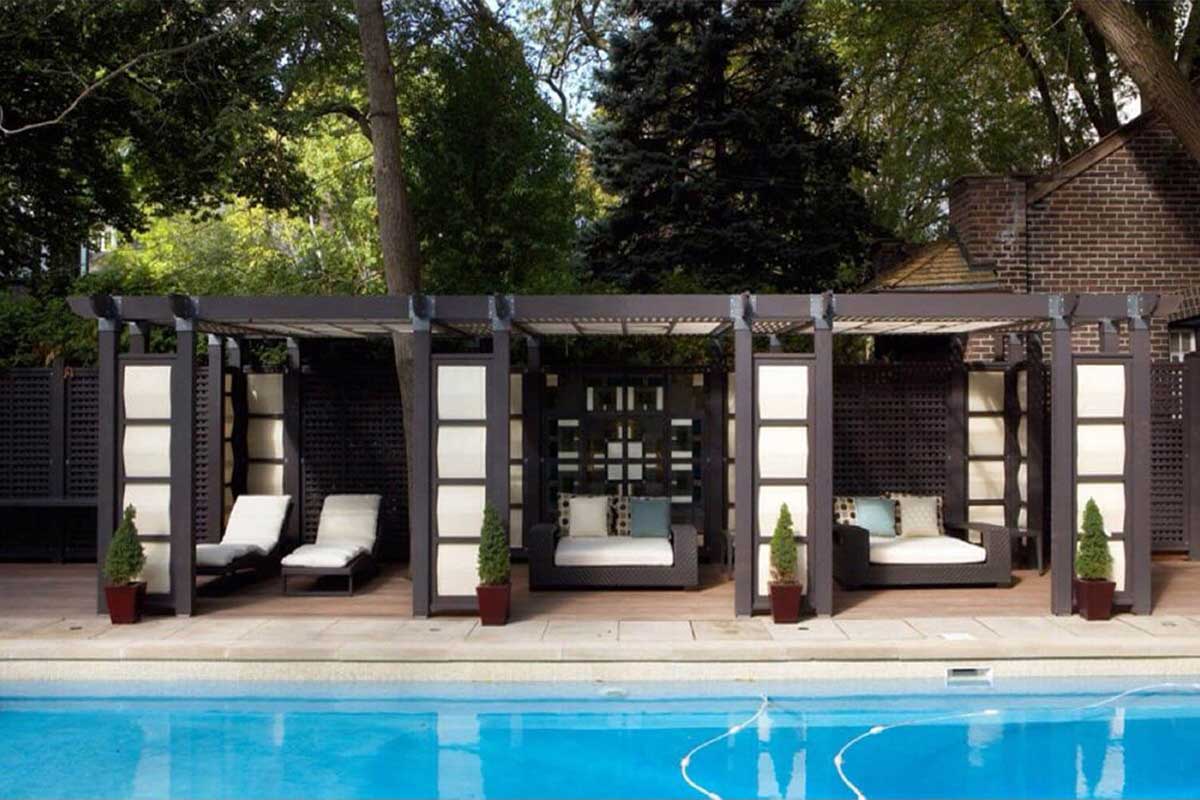 A great mix of functionality, luxury, and contemporary – poolside decks. An open deck can help you stay safe and comfortable all summer long.
Material matters the most in poolside decking. Considering swimming pools are wet spaces, make sure you choose a non-slippery material that can absorb water.
If you enjoy sunbathing, make sure you have a patio cover. A patio cover can help you minimize your exposure to UV radiation. Patio cover and closures can also help divide up the space, giving your family and guests more privacy.
Other benefits include:
Versatility in design: Whether wood decking or concrete, your options are endless.
For more modern backyard deck ideas, browse our photo gallery.
Contact Us to Discuss Decking Materials, Modern Deck Ideas, and More
Turn your inspirations into reality! Whether you're looking for a modern deck or a classic one, we can create a functional space that fits your wants and needs. With our 30+ years of experience, we've designed and installed thousands of decks. If you're looking for a hassle-free renovation process, contact us today!
We offer a free ½ hour design consultation in our showrooms. Find a location close to you.
Visit our website to connect with a deck designer today! Follow us on Facebook, and Instagram for more decking ideas!