Prepare Your Deck For Summer with The Deck Store
Are you looking for ways to get your deck looking perfect again? Summer is right around the corner! It's time to restore your decking. Follow these steps to prepare your deck for summer!


Wash Your Deck
The winter may have been tough on your deck. Luckily, there are ways to improve the condition of your deck. Start by giving it a wash!
Start by sweeping your deck to get rid of the debris. Consider using a pressure washer for a better result. Be careful not to use too much pressure to avoid damaging your composite decking. You may also get a high-quality deck cleaner for a longer lasting result.
If you don't clean your deck regularly, you may end up with paint peeling. It's best to wash your deck regularly to protect your decking materials.
Replace Your Furniture
You've cleaned your deck and applied protective coating. What's next? It's time to give your deck a makeover. Have you considered installing atmospheric lighting? Creating a mood is not as hard as it looks! Decorative lights are important in outdoor living spaces. If you're looking for a relaxing and welcoming environment, get warm-toned lights. Deck lighting can provide safety and help set up the mood!
Consider creating an outdoor lounge area. It's not difficult to create a chic entertaining space! Get rid of old furniture. Plan a more functional layout for the summer. Choose light and earth-tone furniture for comfort.
Build an Outdoor Bar
Who wouldn't want to sip tropical cocktails in the comfort of their own homes? Build a bar! If you like to entertain friends and family, this is the place for you!
Building a patio bar can cost anywhere from $1,000 to $10,000 – and it's totally worth the money! You can get a premade bar in different shapes and sizes. Alternatively, you can get a custom bar built on site. Building a custom bar can help you utilize the space better. Depending on your budget, you'll have to buy countertops, cabinets, a mini fridge, etc. If you have a tight budget, consider converting existing cabinetry!
A nice outdoor bar can add value into your house! It will dramatically improve the outdoor living experience. Summer is right around the corner, so go ahead and grab the plans!
Contact Us for All Your Outdoor Living Projects
Deck building is a challenging task. Whether you're looking for hot tubs, outdoor kitchens, or simply a custom deck – work with a decking company. A lot goes into a deck project. As deck contractors with over 30 years of experience, we can help! We have a design and build package for every budget! If you're a DIYer, we can still help you! You can book us for consultation, 3D drawings, or to come up with a materials list.
If you are Googling "deck builder Oakville" – you've come to the right place! The Deck Store is proudly Canada's biggest decking design, build, and supply company. We have 8 showrooms across the Greater Toronto Area where you can visit and get inspired for your next big project. Our team of designers is always happy to help you visualize your dream – we are just one visit away. If you'd like to show us your space and consult at your house, we're more than happy to arrange a visit, too.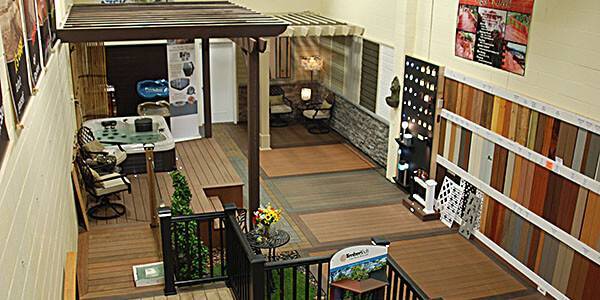 Our showroom in Toronto. Call now (416) 736-1200
Visit our website to get inspired and contact a deck designer today. You can also follow us on Facebook, and Instagram to stay connected! We make building a backyard deck easy!