How to Add Shade to a Deck Design
A deck can go a long way to optimizing the use of your property. In turn, optimizing your deck makes both the deck and its surrounding property reach their full potential. But deck design need to consider the degree and type of outdoor shade they afford. Too much shade might make the deck seem chilly; not enough shade and the deck can become too hot. People are also now very conscious of the harmful effects of too much strong direct sunlight. Deck designs that manage the balance of sun and shade are the best of both worlds.
Deck shading, whether as a part of a new deck design or as a part of a deck remodelling, can be created in a number of ways.
Install a pergola or trellis
A pergola or trellis is a great way to provide shade while still allowing some sunlight to filter through. You can choose from a variety of materials, such as wood or vinyl, and there are many different styles to choose among. Vertical posts and horizontal beams can be left open or covered with vines, fabric, or other materials. Natural plant cover gives shade in the summer and yet in cooler climes (such as that in Ontario) will lose leaves to allow the winter sun to brighten the deck.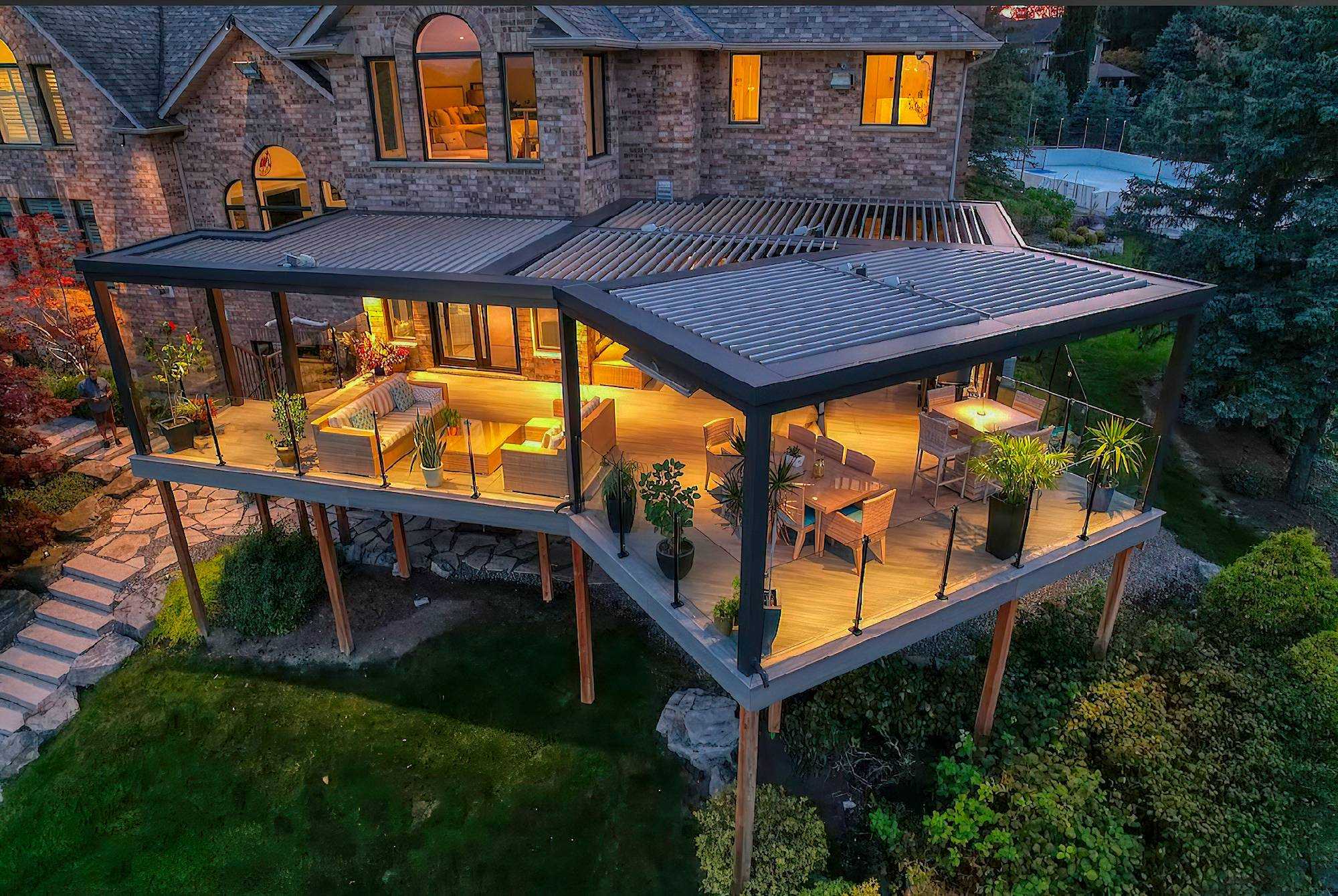 Add a retractable awning
Retractable awnings can be a great option if you want the flexibility to adjust the amount of shade depending on the time of day or the weather; you might also want one area shaded and another area in direct sunlight. Retractable awnings are available in a range of sizes and colours to match your deck's design. Manual or motorized varieties are available.
Hang outdoor curtains or drapes
Outdoor curtains or drapes can add a touch of elegance to your deck while also providing shade. They are available in a range of colours and materials, including outdoor fabrics that are designed to resist fading and mildew. Blinds and screens can also be used, and come in lattice, bamboo, or other materials.
Install a shade sail
Shade sails are a modern and trendy way to add shade to your deck. Available in a range of colours, they can be attached to posts or other structures to create a unique and stylish look. They also offer great flexibility to get the perfect amount of shade by adjusting their height and angle.
Plant trees or shrubs
Planting trees or shrubs near your deck can provide natural shade and enhance the beauty of your outdoor space. Just be sure to choose varieties that are appropriate for your climate and that won't grow too large and overtake your deck area. Locate young trees far enough from your deck and house to avoid damage from overhanging branches or expanding root systems. Large planters can also hold plants that can give a degree of shade: planters with bamboo or small flowering trees can be particularly attractive.
Use umbrellas
Large umbrellas are a great way to add shade to a deck. They can be moved around to different areas of the deck and can be closed when not in use. They can be supported by the structure of the deck, or be integrated with deck furniture such as tables.
These are just a few ideas for adding shade to your deck design. Remember too, these methods can be used in combination for the very best balance of shade, design, and cost. Consider your budget, design preferences, and the amount of shade you need when deciding which option or options to choose.
Visit our website to find a location closest to you, or to contact a deck designer today!
Follow us on Facebook and Instagram for more deck design ideas.