Swimming pools have always been a popular source of relaxation and recreation. With the rise of above-ground pools, the demand for decks to accompany them has also increased. Above-ground pool decks offer homeowners the ability to enjoy their pools in style, while also providing added safety and stability. In this comprehensive guide, we'll explore the various types of above-ground pool decks, the benefits of each, and how to choose the perfect deck for your above-ground pool.
Types of Above Ground Pool Decks
There are several different types of above-ground pool decks to choose from, each with its own unique benefits and drawbacks. Some of the most popular options include:
Freestanding Decks
Attached Decks
Multi-Level Decks
Wrap-Around Decks
Freestanding Decks
Freestanding decks are the simplest and most affordable option for above-ground pool owners. These decks are essentially just a platform that is built directly next to the pool. They typically feature a single level with no steps or railings. Freestanding decks are easy to install, but they do have some drawbacks. For example, they can be unstable in high winds, and they may not provide much privacy. However, they are the perfect solution for above-ground pool owners who are looking for a simple and affordable option.
Attached Decks
Attached decks are similar to freestanding decks, but they are attached to the side of the house. This type of deck provides a bit more stability and privacy, but it also requires more space and can be more difficult to install. If you have the space and are willing to invest in a bit more work, an attached deck may be the perfect solution for your above-ground pool.
Multi-Level Decks
Multi-level decks are perfect for above-ground pool owners who are looking for more space and versatility. These decks feature multiple levels that provide ample space for lounging, entertaining, and storage. Multi-level decks can be attached to the house or freestanding, depending on the homeowner's needs. They are more expensive and time-consuming to install, but they offer many benefits that make the investment worth it.
Wrap-Around Decks
Wrap-around decks are the ultimate in above-ground pool luxury. These decks wrap around the entire pool, providing ample space for lounging, entertaining, and storage. Wrap-around decks are typically multi-level and attached to the house, but they can also be freestanding. They are the most expensive option for above-ground pool owners, but they offer the most benefits and the greatest amount of space.
Benefits of Above Ground Pool Decks
There are many benefits to having an above-ground pool deck, including:
Increased Safety: Decks provide a stable surface to enter and exit the pool, reducing the risk of slips and falls.
Increased Privacy: Decks provide a barrier between the pool and the rest of the yard, increasing privacy and reducing the visibility of the pool.
Increased Functionality: Decks provide additional space for lounging, entertaining, and storage.
Increased Value: Above-ground pool decks can increase the value of your home, making them a great investment.
How to Choose the Perfect Above Ground Pool Deck
When choosing an above-ground pool deck, it is important to consider your needs, budget, and available space. Some factors to consider include:
Size: Make sure the deck you choose is the right size for your pool and your yard. Consider the size of your pool, the space you have available, and the number of people you want to be able to accommodate on the deck.
Material: Decks can be made from a variety of materials, including wood, composite, and aluminum. Consider the durability, maintenance, and cost of each material before making a decision.
Style: Choose a deck that complements the style of your home and yard. Take into consideration the design of your house, the landscaping, and any other structures in your yard.
Budget: Decks can range in price from a few hundred dollars to several thousand dollars. Consider your budget and choose a deck that fits your budget while still providing the features and functionality you need.
Maintenance: Consider the maintenance required for each type of deck. Some materials, like wood, require more maintenance than others.
Conclusion
An above-ground pool deck is a great investment for any above-ground pool owner. It provides a safe and stable surface for entering and exiting the pool, increases privacy, and adds functionality and value to your home. With the many types and styles of decks to choose from, it's easy to find the perfect deck for your above-ground pool. Consider your needs, budget, and available space when choosing a deck, and enjoy the many benefits of your new above-ground pool deck for years to come.
The Deck Store creates one-of-a-kind deck projects
The Deck Store offers the largest decking design, build and supplies.  Every deck project is one-of-a-kind. That is why at The Deck Store our first step is always to listen to our customers. Tell us what you need and want. Together we'll work with you to create the right plan with the best products for your outdoor space.
At The Deck Store, our deck design team and building experts specialize in deck building and deck installation.  We are the most professional source for custom-designed and expertly installed outdoor living projects including composite decks, PVC decks, cabanas, pergolas, privacy screens, high-quality patio furniture, and much more. Plus, we offer a 10-year workmanship warranty.
Visit our showrooms in Oakville, Toronto, Kitchener, Markham, Mississauga, Oshawa or Ottawa, and our expert designers will work with you to bring your deck project a reality.
Build the Deck of Your Dreams!
With Industry Leading Design Build Team
Deck Design: We Create the WOW! Factor
WANT AN ESTIMATE?
Contact us to request more information or an estimate for your outdoor project.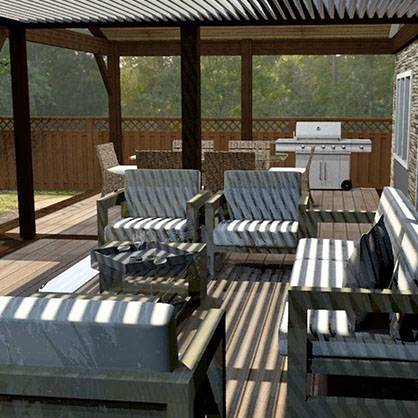 Professionally designed spaces that maximize usability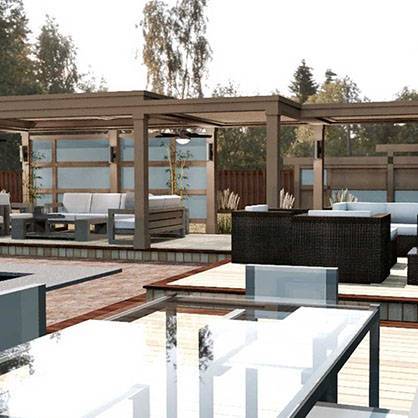 Outdoor living features such as decks, patios, pergolas, privacy and so much more…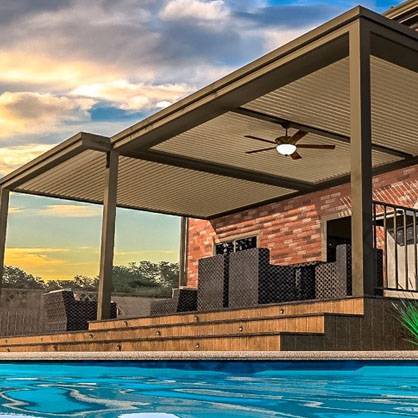 Unique and innovative concepts with over 30 years experience in the industry
Deck Building: We Build All Year Round
WHY THE DECK STORE?
The most important part of any deck project is finding the right builder to do the work. Our builders have the right set of skills, our designers share your vision, and we always can adjust project according your price range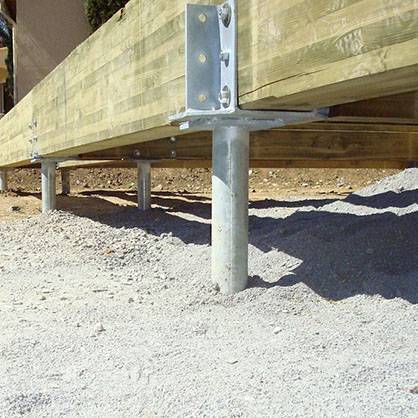 Helical Piles – Every good thing begins with a good foundation, and your deck is no different. Strength and stability is an important thing to build upon, and that's why we like to build our decks upon something called Helical Piles. Often known as Screw Piles, Helical Piles are quickly becoming the most efficient and cost effective way to provide your project with a safe and sturdy foundation.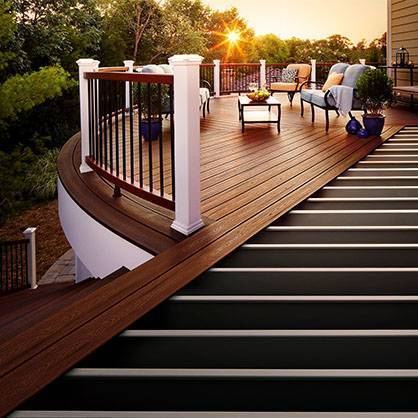 Metal Framing – Once you have your post properly anchored and standing strong, it's time for phase two: framing. Available in both metal and traditional pressure treated lumber, framing is the skeleton that supports you decking for the duration of its life.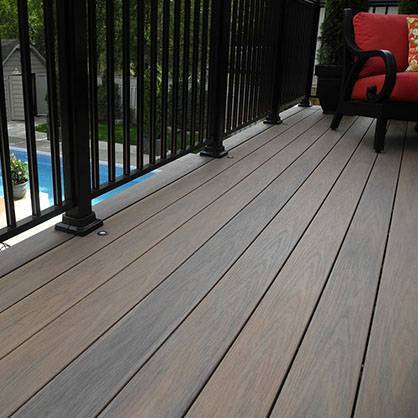 Low Maintenance Materials – After your foundation is set and your framing secure, it's time for the main event of the building process: your decking of choice. This can take on many forms, from traditional pressure treated to synthetic materials (composite/pvc), but is always accompanied by one constant; experienced and skilled build teams.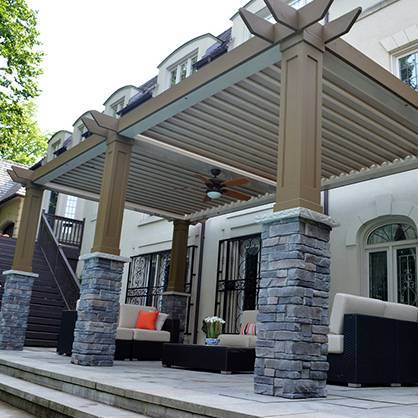 Having a new deck is great, but what really turns you backyard space from renovation to staycation are the character pieces and accents that you choose. Things such as custom pergolas, privacy screens, shading options and custom metal artwork can go a long way in turning your outdoor space into a retreat; and we all want the kind of yard that will leave our neighbors and friends jealous and talking.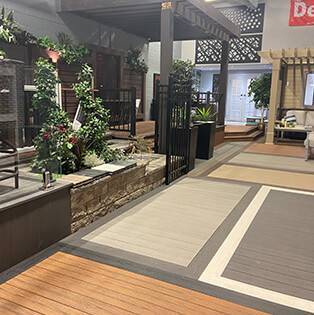 Buy Everything for Your Deck
Visit one of our retail showrooms to get inspired to create your very own one-of-a-kind outdoor oasis. The Deck Store has 7 retail locations throughout Ontario, with its head office in Oakville.
Oakville
Toronto
Kitchener
Markham
Mississauga
Ottawa
Oshawa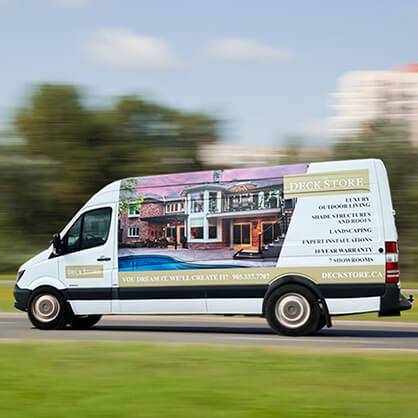 Spend $15,000 or more and we will bring your material to you.
(Valid only within 1 hour drive of store location)
Head Office: Oakville
454 South Service Rd. West,
Oakville, ON, L6K 2H4
Hours
Monday:
8:00 am - 6:00 pm
Tuesday:
8:00 am - 6:00 pm
Wednesday:
8:00 am - 6:00 pm
Thursday:
8:00 am - 5:00 pm
Friday:
8:00 am - 5:00 pm
Saturday:
9:00 am - 5:00 pm
Sunday:
Closed
Design Build Consultation?

Copyright © 2022 The Deck Store, Inc.