A Condo Is Like A Pyramid: You Have To Cover All The Angles
Selecting materials to suite both your project and budget can, at times, be a tedious and daunting task. You have to have the insight necessary to select ideal products, the trust required in the workforce you need to complete the task and the vision to create something both unique and worthwhile. Throughout history we have seen these criteria followed for various historical landmarks, and they continue to dazzle us to this day. Can you imagine what the pyramids of Egypt would have looked like had the ancients decided to construct them using papyrus reeds built into a rectangle, manufactured by children? It would have been quite a mess indeed, and almost certainly a collection of structures that we would not be talking about today…because they wouldn't exist.
The ancient Egyptians were smart enough to envision grand designs the likes of which the world had never seen, knowing the products that would best suite this purpose, and acquiring the workforce necessary to turn their concepts into reality (technically this was slave labor, but we won't get into that).
These suckers have now stood for thousands of years, outlasting the techniques of modern construction by quite an unfair margin. So if these are the true keys to a successful project that will stand the test of time, we had better start applying them towards our current building itinerary, wouldn't you think? So pull up a chair, those of you in the world of condo development. This one is for you.
Recently venturing into the world of commercial sales and design, The Deck Store recognizes the challenges facing condo developers in today's fast-paced environment. The corporate process can take months of planning, budgeting and multi-level approvals, and with so many different players involved, can be strenuous to complete for all involved. Finding a company to partner with that can alleviate some of this stress while providing one-stop service would be a great benefit, and it is precisely that business model which The Deck Store has chosen to employ. So why choose The Deck Store? We're glad you asked!
The Deck Store Commercial Division
With a track record of excellence in the decking and outdoor living space industry (over 10,000+ projects completed in Ontario), The Deck Store is the ideal choice for condo developers throughout the province. We offer value beyond the traditional box store approach, on everything from eco-friendly products to LEED Credit support, all with the security of an industry-leading 5 Year Warranty on workmanship. Everything from Bison tiles to retractable awnings to artificial grasses and surfaces can be had from The Deck Store, often with more appealing environmental options. Though these products can sometimes increase your overall project budget, the value of quality, long-lasting materials is well worth the extra investment.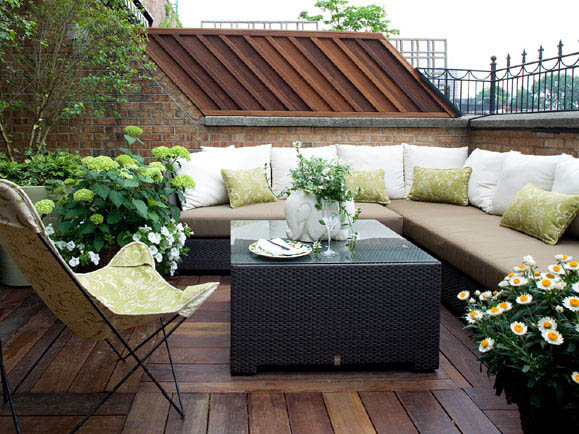 Maximizing living space while providing cost-effective material alternatives is of paramount concern to all commercial enterprises these days. Let's face it, building a condo is not cheap, and if you want to turn a decent profit through tenants after completion, you have to be able to sell them on your property over competing brands. A nice design and floor plan is a great start, but it's the attention to details and the subtle nuances that will really have people lining up to reside in your dwelling. What if, for example, you could offer them premium composite or PVC materials for their outdoor deck or patio? Would that pique interest more than a traditional pressure-treated system? You bet it would! Condo living is all about convenience after all, and what could be more convenient than having a low-maintenance deck? There is no staining, no rotting, no paint chips, no scratches…all you do is open the patio door and enjoy! Imagine also that instead of cold, uninviting concrete patios or balconies, you could provide your future tenants with the sophistication of wooden walking tiles, synthetic pavers, and glass railing systems? Which would you rather live in, a boring concrete space with an industrial feel…OR a vibrant, trendy one that feels fresh and inviting?

Whether you are a large-scale housing conglomerate or a local builder, The Deck Store has the knowledge, experience and product selection to give you a completed condo you can be proud of. With Canadian exclusivity on several products in market, The Deck Store has positioned itself as the best option for alternative product selection, with the ability to fulfill bulk orders in a timely fashion. We recognize that no project goes through the construction process without hiccups, and can guarantee prompt delivery and shipping should you need to alter or increase your material load. With four strategic locations in Ontario to serve you, you are never too far away from having the ability to contact our staff, or to sample our products. And if you need design help or advice, we employ some of the best outdoor designers in Canada. Their knowledge is second to none, their design ideas are fresh and cutting-edge and their demeanor is always friendly and approachable.

Want to learn more? Contact a member of our team today to get started on your next condo project. Because in the world of outdoor living, covering all your angles is key.