Don't Just Do Decking…Do Trex!
Being the first to do something can be difficult. I imagine the first person to try and domestic a dog, for example, probably didn't fare too well. Likewise for the first person that tested shark repellant, attempted to skydive or thought alligator wrestling was a fantastic idea. Being a pioneer in any area has its share of challenges, and being able to not only do something first, but to create popularity and longevity behind it is a skill few can master.
The same holds true in the decking world, especially in regards to the composite board industry. It probably seemed like a ridiculous idea at the time to start building decking materials out of resins, chemicals and minute traces of organic wood matter. But if you do it first, and you do it right, others will follow.  Enter the TREX Company.
Founded in 1996, TREX Company has been leading the pack in the field of composite decking ever since. With a superior style and beauty all its own, TREX has since built itself into one of the most recognizable names in the decking industry. But what makes them such an industry giant? Let's examine.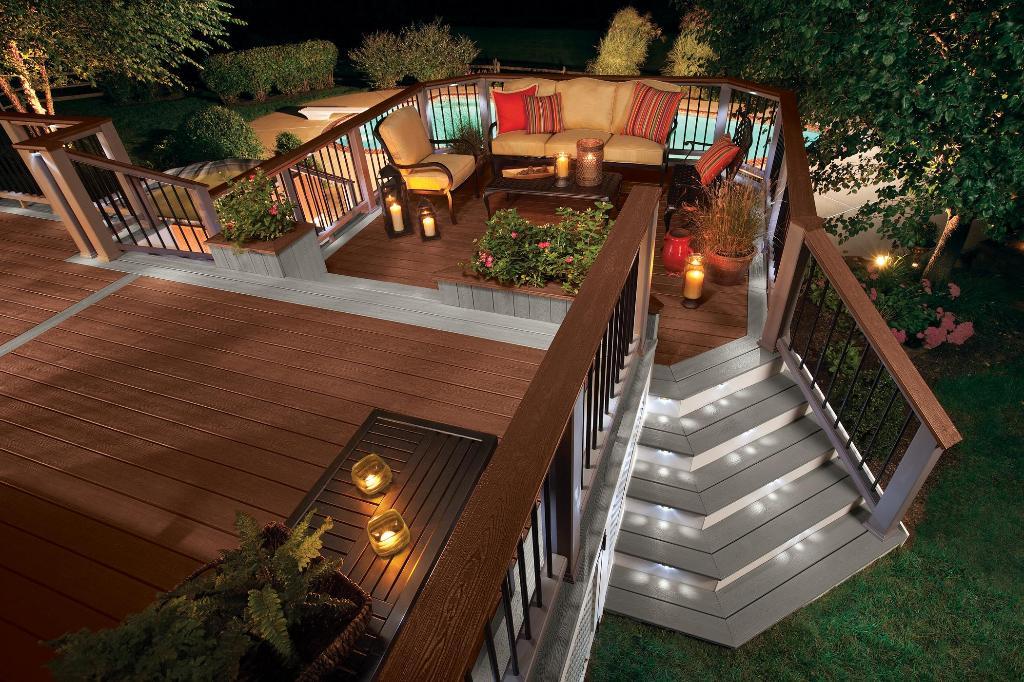 Decking:
The first line of products from TREX (and still their biggest sellers today), is their extensive line of composite decking materials. Manufactured using 95% recycled shopping bags, woods and sawdust, TREX utilizes a unique Green process designed to be both cost-effective and eco-friendly. They come in a variety of colors and textures, and their new TREX Transcend collection is absolutely stunning. Taking their inspiration from hardwoods originating in the world's rainforests, this style is designed to be both high-performance and low-maintenance. Intense colors and wood-like striations give you the look of something exotic and luxurious, without the costly environmental consequences of rainforest harvesting. And because they are made using the same proven and reliable TREX process, you still get the same benefits as with all their boards (things like fade, stain and scratch resistance). The surface cleans easily, generally with just soap and water, and is installed using the TREX Hideaway fastener system, making things like joints and seams practically invisible.
The only issue you may run into is with the PVC coating they use to cap their boards. Most manufacturers in the industry today elect to use this coating around the entire board, locking out things like moisture and insects, while also making the board more durable and long-lasting. Though this is a practice that has only been in place a handful of years, TREX has elected to stay the course on traditional manufacturing techniques, covering only the top surface of their products in PVC. Generally this is good enough for most installations, with the only exception being projects built low to the ground or in areas of consistent moisture (such as walk-out patios without stepping, pool sides, etc). Overall though, if your deck designer is worth his or her money (*cough* Deck Store *cough*), they will know which products to suggest for these circumstances and selecting your decking from TREX will definitely not disappoint.
Accessories:
What really sets TREX apart from its competitors is the depth of its deck-related accessory line. If you thought your project was over the minute you decided on design and material options, think again. TREX offers you enough add-ons and accent pieces to screw with your equilibrium, from color and material matched railings, to accent and deck lighting to trims and mouldings. You can add a piece here or there for accent or ambience, or go all out for that look of luxury and uniformity.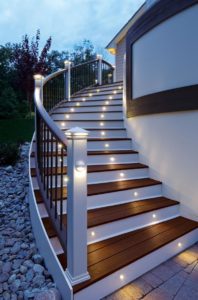 Perhaps one of the most innovative products they've launched recently is the new TREX Rain Escape systems. At its core, this system is designed to handle under-deck drainage, keeping rain, snow or spills from dripping through your deck to the space below. It works through a simplistically designed gutter concept, which also helps to protect the structural integrity of your deck by keeping moisture away from your joists and under structure. The installation couldn't be easier, and most do-it-yourselfers will have no problems at all using only a utility knife, staple gun and caulking. The added bonus of this system is the flexibility it gives you with the space below your deck. Now that you've sealed out moisture and created a refined underbelly to your deck, you can now use the space underneath for outdoor living as well! Add some seating options (yes, TREX sells those too), a grill, outdoor kitchen…you're limited only by your imagination. You can now safely store and install electronics (such as speakers, TVs, etc) under your deck permanently, so no more covering them with garbage bags or having to disconnect everything for winter.
Taking all these things into consideration, the TREX Company more than lives up to its billing as the industry leader in the world of composite decking. If you're looking for value, style and product versatility, TREX makes it easy to outfit your entire deck project through a single manufacturer…and look good doing it.
To find out more about TREX and other manufactures, visit The Deck Store's online supply listings.