Homeowners Are Falling For Custom Deck Railings In Toronto
When considering deck projects in Toronto, most homeowners are looking to maximize their outdoor living space. Thoughts turn to decadent food preparation, mood-lit dining, and sun-drenched lounging first before turning their thoughts to keeping all that safe and sound on the deck.
The height of your deck will determine if a deck railing is required as well as the height of railing. Then it's time to consider the custom deck railing that will perfectly suit your deck and backyard oasis. Backing up your chair from the table, adjusting your lounge chair with the sun or rolling your barbecue over just a bit could result in a mishap, if not for a railing protecting you.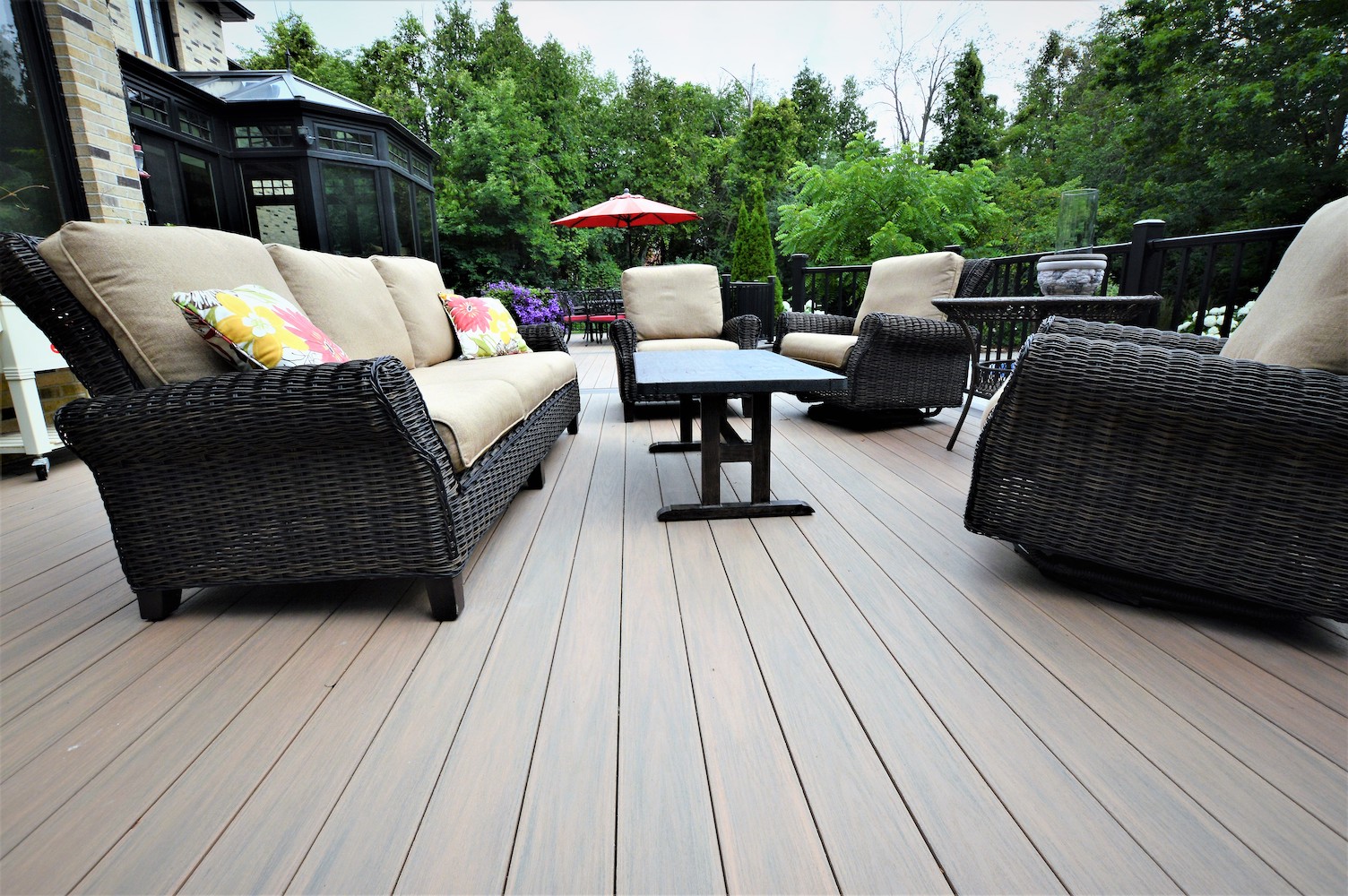 A deck builder will be able to provide a plethora of options with regards to building materials and an abundance of styles to choose from. Standard or custom, your deck railing will become not just a safety feature but a stylish and complimentary accessory.
Deck Railing Maintenance
The first question in considering your deck railing options is how much maintenance will be required. The beauty of wood, as with all natural beauty, fades and weathers over time and needs on-going maintenance. Having said that, most homeowners have very busy lives and would much rather invest their time relaxing with family and friends then stripping and staining every individual wood picket.
Low maintenance may include natural wood posts and rails with aluminum spindles or glass panels. No maintenance would be any mix of aluminum, stainless steel cable, glass or an enhanced version of iron railings. And with so many options of colors and materials to choose from, you're sure to find one perfectly suited to your deck project.
Deck Railing Materials
Many homeowners love the look of iron railings. Its classic appearance has always been synonymous with a lifetime of strength and durability. Nowadays, the look of iron can be used for your deck railing but with the added feature of being completely maintenance free. You choose your color of textured finishes like gloss black, black sand or antique bronze. And select from numerous custom accents like panels, ornaments, scrolls, brackets and post caps, to name a few.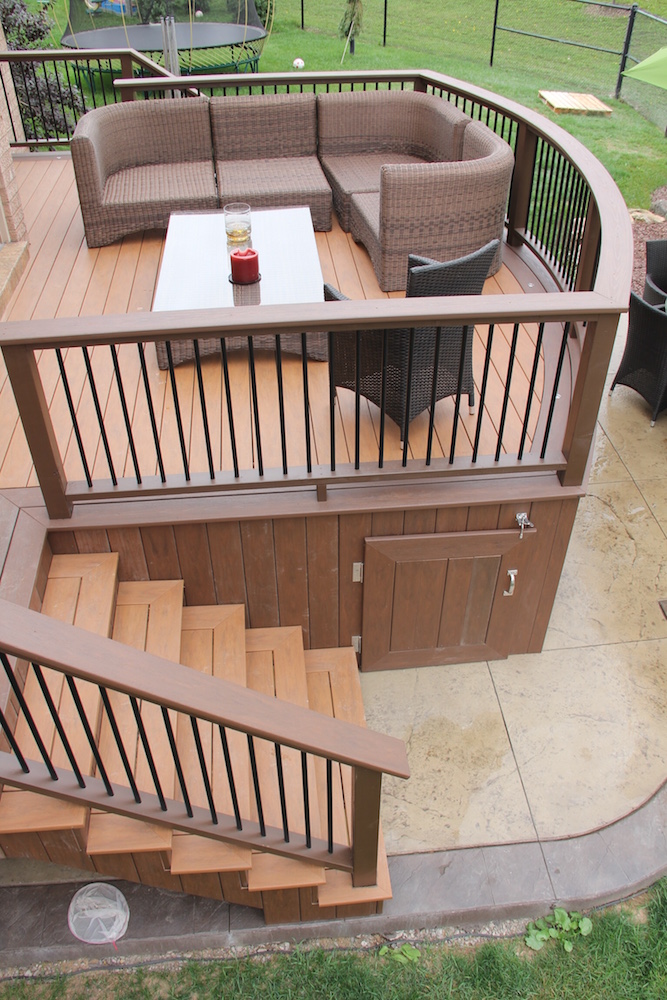 Cable railings are an interesting twist and provide a reasonably clear view through to your backyard and beyond. The cable railings are made of stainless steel and suspended between aluminum railing posts and handrails. You choose the color of aluminum that best suits your deck design.
Glass railings are actually glass panels also suspended between aluminum railing posts and handrails. They are popular deck railing choice with homeowners in Toronto as they provide the optimum clear view to the entire backyard oasis. Whether you're watching the children swim in the pool or watching your beautiful gardens grow, a glass will give the feeling of no railing at all. With glass railings, however, like any solid piece of material, it's important to consider airflow and heat. Glass panels are also available in smaller panel sections and tinted glass just like your sunglasses.
Aluminum railings are a great choice as they are strong, maintenance free, available in different colors, and 100% recyclable.
No matter which deck railing style, color or material you choose, The Deck Store is an authorized dealer for the best manufacturers in the industry, renowned for their technical innovations and current deck design trends. Any one of the professional deck consultants from The Deck Store can answer your questions either in your home or in one of their many deck showrooms throughout Toronto. And any one of their professional deck builders will build your dream deck with the perfect railing to keep everything in its place.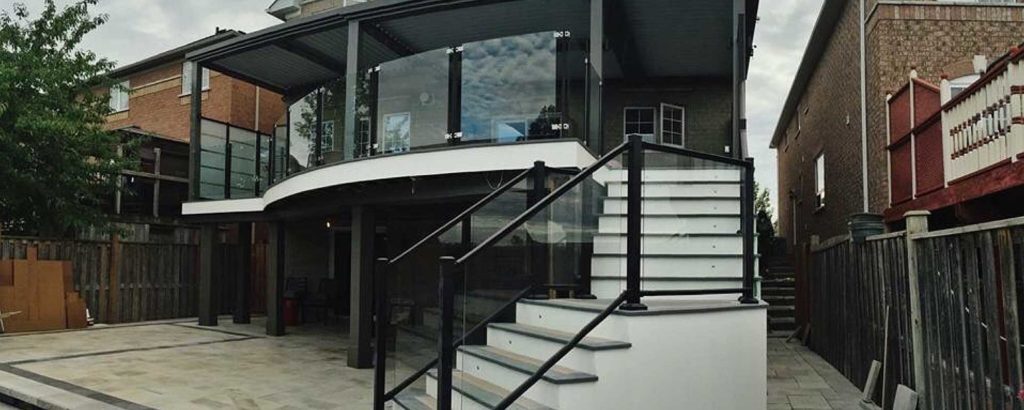 With so many choices in deck railings, you might not be able to decide. Perhaps a mix and match of a variety of different materials will make your deck project uniquely yours and the conversation piece of the neighborhood.
[pl_section section="popthumbs" id="1600007348″]
Contact Building Materials Sales for deck railings options
[plsc_button url="https://deckstore.ca/landing/contact-building-materials-sales/" target="_self" color="red" style="flat" radius="semiround" size="lg"]Contact Sales[/plsc_button]