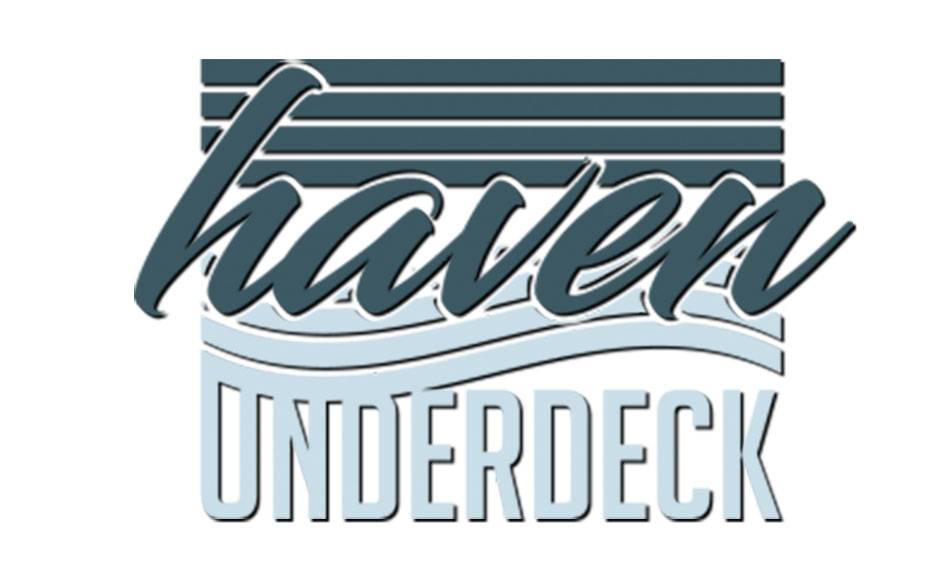 Haven Underdeck is your source for an all aluminium constructed underdeck ceiling system. We offer multiple options to fit any budget and design – making the space you envision a reality.
Installing deck drainage allows you to reclaim outdoor living space while protecting your deck's substructure from moisture damage. Learn how to design an effective under-deck drainage system for a dry, usable ceiling.
Creating an outdoor living space extends your home's footprint and enhances your property's functionality and enjoyment. However, the underside of an elevated deck often remains damp and unusable. Excess moisture promotes rot, mold, and decay in deck joists and beams. Proper drainage redirects water, while an under-deck covering system effectively seals the area from above, ensuring optimum protection. The result is a weather-resistant, livable area perfect for storage, parties, or relaxation.
What are the benefits of under-deck drainage?


An under-deck drainage system provides numerous advantages:
Prevents moisture damage to the deck substructure.
Creates dry storage or living space under the deck.
Allows you to install ceiling fans, illumination, and speakers.
It helps control weeds, mud, and lawn damage.
Provides cover for a hot tub, pet area, or garden.
reduces the risk of slipping on wet deck stairs.
Extends enjoyment of outdoor areas year-round.
What Factors Should You Consider for Deck Drainage?


Several considerations factor into designing your deck drainage system:
Size and layout of the deck.
Landscaping slope and drainage.
Local building codes.
Desired covering height.
Types of activities planned for the covered area.
Aesthetic preferences.
Analyze the size, scope, and complexity of your deck to determine the drainage method. For simple underside protection, consider self-adhering membranes or barrier panels. Opt for full drainage systems on large or elevated decks.
What Are the Different Types of Deck Drainage Systems?


Deck drainage systems fall into two main categories:
Passive Drainage
Passive drainage moves water along the existing slope and structural channels. Options include:
Landscape grading: slope the ground under the deck to promote drainage. Effective for low decks.
Gravel backfill: loosen the ground under decks and fill with gravel to disperse humidity.
Gutter extensions: Use downspout extensions to route roof runoff away from the deck.
Active Drainage
Active drainage methods use mechanical components to redirect moisture. Choices include:
Deck dry: lightweight boards with vertical drainage waterways attach under joists.
Rainescape systems: aluminum gutters mount to joists with downspout connectors.
Channel drains: Linear waterways collect and divert water through attached downspouts.
Sump pumps: An automatic pump activates when water collects in a sump pit.
Hybrid drainage: combine passive ground sloping with an active mechanical drainage system.
How Do You Install Deck Ceiling Panels?


Deck dry systems create an enclosed, water-resistant covering using interlocking polycarbonate panels. These are an easy DIY option. Follow these steps:
Measure joist spacing to order the right size.
Fasten furring strips vertically to joists if needed.
Attach boards to joists using clips.
Slot panels together and tighten compression seals.
Flash perimeter edges with code-approved soffit material.
Install illumination, fans, and speakers as desired.
Deck dry systems require minimal joist modifications for quick installation. Panels also allow easy access to wiring. Properly installed, they carry 25-year warranties against leaks, condensation, and yellowing.
What is involved in installing a RainEscape system?


RainEscape aluminum channels provide active drainage along deck joists. The system connects to standard PVC gutters and downspouts to divert water. Installation involves:
Attaching specially designed joist brackets.
Mounting waterways along the full joist length.
Splicing waterways together using internal connectors.
Joining endcaps to seal open ends.
Connecting outlet tubes to direct water to downspouts.
Flashing perimeter edges.
The waterways collect and transport over 1,000 gallons of water per hour. Diverting water preserves structural integrity and prevents leaks.
How Do Channel Drains Work on Decks?


Channes connect to form a continuous drainage path under decks. Linear waterways feature:
A sloped, u-shaped body to collect moisture.
Weep holes that allow lateral drainage.
Removable grates to block debris.
Endcaps with outlet ports.
Deck installation involves:
Determining the layout to catch all humidity.
Leveling and sloping toward outlets.
Securing in place with provided fasteners.
Joining sections via internal connectors.
Sealing perimeter edges with flashing.
Drains require careful layout but provide robust drainage. Look for drains rated for wood construction with UV/freeze protection.
What Should You Consider When Adding Under-Deck Illumination?


Lighting transforms unusable space into pleasant, comfortable areas for relaxation or storage.
Local electrical codes for outdoor wiring.
Beam spacing and fastener points.
Light color and brightness are needed.
Separate switches for ceiling fans.
Dimmer compatibility for ambience control.
Potential glare if the covering is visible.
Ideas include:
Recessed can lights for general illumination.
Slim LED tape lighting running along joists.
Floodlights, lanterns, or Edison bulbs for accent.
Plug-in or battery-powered fairy illumination for festive ambiance.
An electrician can install wiring to power ceiling fixtures safely. Waterproof LEDs are recommended for moisture resistance.
What are some creative ways to use under-deck space?


Once installed, an under-deck drainage system provides usable dry space. Some creative ideas include:
Lounging area with patio furniture.
Bistro dining nook with curtains for privacy.
Year-round hot tub enclosure.
Sealable storage for lawn furniture.
Pet bathing/grooming station.
Enclosed area for smokers.
Kid's Fort or Playhouse.
Plant a nursery for seedlings.
Crafting or workshop zone.
Extra space for parties or entertaining.
With the right ceiling system and accessories, you can create almost any type of hangout. An under-deck oasis awaits!
Key Takeaways for Deck Drainage Systems


Control humidity under decks to prevent damage and create usable space.
Passive drainage uses landscape grading and downspout extensions.
Active systems like deck dry panels and gutters provide robust protection.
Proper layout of drainage components prevents leaks.
Under-deck ceiling systems make the area weather-resistant.
Creative illumination, flooring, and accessories transform bare areas.
Enhance the enjoyment of your deck and yard with under-deck space.
With the right drainage approach, you can get the most out of your deck investment. Protect your substructure while gaining an exciting new outdoor living area.
Low Maintenance Decking

Dive into our collection of low-maintenance decking options. Brands like TIVA, Azek, Wolf, Zuri, and more offer durability and style, ensuring your deck remains beautiful with minimal upkeep.
Wood Decking

Embrace the timeless beauty of natural wood. Our selection ranges from pressure-treated cedar to exotic Ipe. Each wood type offers a unique aesthetic and feel for your outdoor space.

Deck Material Options

Step beyond the conventional. Our alternative surfaces offer innovative designs and materials, giving your outdoor space a unique touch that stands out.


Hidden Deck Fasteners

Secure your deck with discretion. Our hidden fastening systems offer a clean, unobtrusive finish, ensuring deck boards remain firmly in place.
Deck Hardware

The unsung heroes of deck stability. Our range of hardware ensures every part of your deck, from boards to railings, remains firmly anchored.

Deck Frame

The foundation of every great deck. We provide robust and reliable substructures, ensuring your deck remains stable and long-lasting, regardless of the surface material chosen.
Under Deck Drainage System
Utilize every inch of your deck. Our systems maximize space and functionality, turning the area beneath your deck into a usable, protected space.
Deck Railing

Safety meets style. Choose from materials like aluminum, vinyl, and more to ensure your deck is both secure and visually appealing.


Deck Lighting

Set the mood. From ambient glows to functional spotlights, our lighting options ensure your deck shines day and night.


Deck Stains

Give your deck lasting beauty. Our premium stains and finishes protect against wear and weather, ensuring your deck remains vibrant and protected.
Cladding

Enhance your outdoor façade. Our cladding selections marry durability and design, safeguarding your space while accentuating its architectural flair.
Siding

Elevate your home's exterior aesthetics. Our premium siding options not only enhance appearance but also offer protection against the elements.
Deck Roofs

Shelter from above. Our deck roofing options provide the perfect blend of protection and elegance, ensuring your deck is ready for any weather.
Fire Pits

Warmth meets ambiance. Dive into our collection of firepits, offering a cozy focal point that extends your outdoor season.


Outdoor fireplaces

Elevate evening gatherings. Our outdoor fireplaces serve as a grand centrepiece, melding heat and sophisticated design for memorable nights.
Outdoor Kitchens

Culinary elegance outdoors. Experience our range of outdoor kitchens, designed to enhance al fresco dining with functionality and style.
Pergolas

Introduce architectural charm. Our pergolas not only offer shade but also infuse your space with a blend of classic and contemporary elegance.
Gazebos

Transform your outdoor space. Whether you seek shade, shelter, or a focal point, our structures add elegance and functionality.

Outdoor pavilions

Stand under sophistication. Our pavilions provide a sheltered space, marrying robust structure with polished design for the ultimate outdoor luxury.
Outdoor Furniture

Sit back and relax. Our curated collection of patio furniture is designed to complement your deck, offering both comfort and style.


Deck Shades

Stay protected from the sun. Our innovative shading solutions offer respite from the heat, ensuring comfort in your outdoor space.


Deck Privacy Fences

Secure your serenity. Our deck privacy fences merge security with aesthetics, granting peace of mind and a visually pleasing barrier.


Outdoor Privacy Screens

Combine style with seclusion. Our diverse range of privacy screens offers both aesthetic appeal and functional privacy for your outdoor retreat.


Outdoor Wall Decor

Adorn with elegance. Browse through our wall décor options that transform blank spaces into captivating visual delights, resonating with outdoor charm.

Sunrooms

Bask in natural brilliance. Our sunrooms offer a seamless transition from indoors to out, ensuring comfort while enjoying nature's touch.